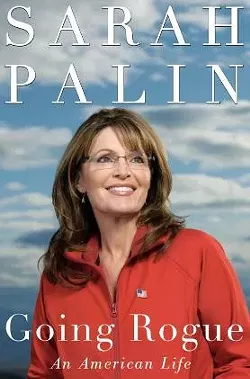 If you haven't heard, former vice-presidential candidate
Sarah Palin
is out today with her new book
Going Rogue
.
The 432-page tome is already getting some
critical reviews
from those who say Palin doesn't always get her facts straight in the book.
Honestly, though, who cares?! Palin was never about authenticity. She was about spontaneity!
Like that time
in St. Louis during the VP debate
when she casually asked Joe Biden, "Hey, can I call you Joe?" and then used the informality to belittle him. "Say it ain't so, Joe, there you go again pointing backwards again."
Or that time that time that she -- or her handlers -- came to St. Louis and
dropped tens of thousands of dollars
on clothes and accoutrements at the Saks Fifth Avenue.
Given Palin's ties to St. Louis and her affinity for our stores, we here at
Daily RFT
figured Palin would give our fair city a visit during her book tour.
Think again.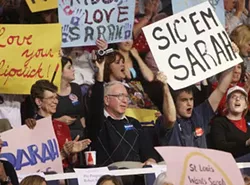 St. Louis fans of Palin after her VP debate with Biden in October '08
Apparently St. Louis is too cosmopolitan (read Democrat) for the former Alaska governor.
St. Louis isn't the only city overlooked by Palin either. Even though she's swinging through states such as New York, Michigan, Pennsylvania and Minneapolis, Palin is avoiding the major cities of NYC, Detroit, Philly, Pittsburgh and Minneapolis.
Instead,
Palin will be places like
the Meier store in Fort Wayne, Indiana; the Sam's Club in Washington, Pennsylvania; and the Army/Air Force PX in Fort Bragg, North Carolina.
In other words, look for Palin everywhere you aren't.