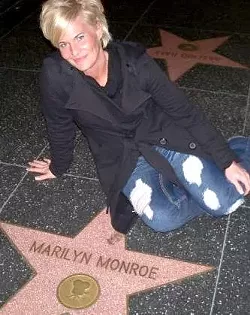 Photo courtesy of Albert Watkins
Casey Ray
Remember the case of
Casey Ray
?
Ray was loitering outside a St. Louis hotel where
George Clooney
and other actors were staying this past spring when
she found the script
to the
Twilight
movie sequel,
New Moon
, in a Dumpster. (What Ray, a hairstylist, was doing rummaging through the trash remains a mystery.)
Anyway, Ray and her St. Louis attorney -- the inimitable
Albert Watkins
-- negotiated the safe return of the script to Summit Entertainment. In return, Summit provided Ray with a tickets to the Hollywood premiere of the film tomorrow as well as an autographed copy of the script.
Today, Watkins dispatched a press release stating:
Armed with an updated "do", carefully selected accessories, and her invitation to walk the red carpet, attend the premiere, and hob knob with the stars, Casey Ray is staying at Hollywood's famed Roosevelt Hotel and introducing herself to the Left Coast. "I suppose this will be my first and last red carpet walk," said Ray, "and I plan on making sure it is memorable."

But is everything really so peachy in La-La Land? Hollywood gossip site
TMZ.com
is reporting that Ray is now bitching about her arrangements.
Casey Ray tells TMZ she's grateful Summit Entertainment coughed up two tickets to the film's L.A. premiere and after party on November 16 -- but the cost of traveling expenses is biting her in the behind.

Ray says the round-trip tickets for her and her niece cost $1,200 -- plus another bundle to pay for a hotel and whatever other expenses the duo happens to rack up.

We spoke to a rep for Summit who says Ray's complaint comes as a complete surprise. The rep said Ray had no problems with the reward package -- which also includes a walk down the red carpet and a signed copy of the script by the movie's lead actors -- when she agreed on it back in May ... and Summit hasn't heard a peep from Ray since.