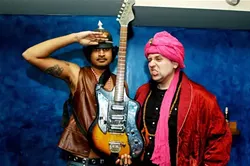 Fans of the rock duo
The King Khan & BBQ Show
were disappointed last night when the band was a no-show for its scheduled concert last night at the Off Broadway in St. Louis.
Today the
Riverfront Times
music blog
A to Z
has the skinny on why the band failed to appear.
Turns out at least one member of the outfit got arrested yesterday in the-middle-of-nowhere-Kentucky.
Kristin Klein
, tour manager for the band, was arrested in Oak Grove, Kentucky, and charged with driving on a suspended license and possession of a controlled substance.
The band was supposed to be driving from Nashville to St. Louis yesterday.