Remain non-broke all the way through Monday with the following suggestions for having fun on a budget this weekend.
Looking for live music? We have that for you too, with our
weekend concert calendar
. It's also
one of the best weekends all year long to see a movie in St. Louis
.

Everything is Terrible!: The Movie at Antarctica (Friday)
A group of students at Ohio University compiled the worst video footage they could find, found footage "ranging from the hilariously arcane to the blissfully obscure," so says promotional bulletins about the film.
Unreal interviewed Commander Gilgamesh, one of the group's founding members, to find out more about this movie
. Those interested in seeing hilariously bad, the worst of the worst, can do so on Friday night. It costs $8 for the public, $6 for students, and begins at 9 p.m. at Antarctica, a new venue/space on the South Side (5226 Gravois.)
So Many Dynamos at Off Broadway (Friday)
We locals can be forgiven for feeling mighty proud of So Many Dynamos right about now. After all, we've seen the post-everything quartet grow from a spazzy-behind-the-ears band into a formidable live act that's opened for Ra Ra Riot and Death Cab for Cutie. The Dynamos,
with new guitarist Nathan Bernaix
, play Friday night at Off Broadway. The show starts at 8 p.m. and admission is just $8.
Annie Zaleski has more details about the show here
.
Image: Christopher Gustave
2009 Poetry Scores Art Invitational (Friday
)
When a poem is paired with music, for example, the resulting piece may be appreciated and understood more than either part on its own; because the juxtaposition makes for comprehension on several levels. Witness this kind of melting pot of creativity at the 2009 Poetry Scores Art Invitational, held from 6 to 10 p.m. Friday at the Luminary Center for the Arts (4900 Reber Place; 314-807-5984). Free admission.
Alison Sieloff has the rest of the story here.
Image: Jon Cournoyer
A Side Order of Everything
Empire of Dust at Hoffman LaChance Contemporary (Friday & Saturday)
Jon Cournoyer's large-scale collages have taken on a darker cast in the past two years. The work in his new show,
Empire of Dust
, still prominently features Edwardian-era figures and storybook animals, but the narrative beds of borrowed images these characters rest upon have changed. This collection ends its run at Hoffman LaChance this weekend.
Paul Friswold has more details here
.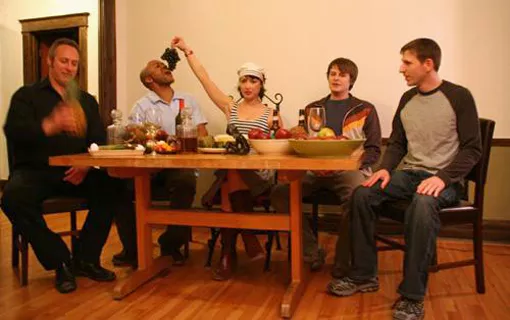 Photo via MySpace
The Helium Tapes
The Helium Tapes CD release at Off Broadway (Saturday)
The Helium Tapes isn't wasting any time. The band released its self-titled debut last fall and now, a mere fourteen months later, the excellent
Ghost Wave
capitalizes on that album's hallmarks - minor-key psych-pop, fuzz-bombed guitar leads and sweet-and-sour female vocals - while tightening and refining its approach. The show costs just $6.
Christian Schaeffer has more details here
.
Insider Art exhibition at All Saints Church (Saturday)
Prisoners probably need a creative forum more than just about anyone else, and Insider Art's upcoming exhibit and silent auction at All Saints Church (6419 Clemens Avenue, University City) provides a suitable outlet. Incarcerated individuals in Missouri and beyond have donated their works to the cause -- the cause being Inside Dharma, a nonprofit, nondenominational Buddhist group serving prison populations -- and you, dear reader, view these pieces, created in various media, and bid on them in a silent auction. Free admission.
Alison Sieloff has more info about the exhibit here
.
Photo: Egan O'Keefe
Two partiers at London Calling in July.
The Last London Calling at the Halo Bar (Saturday)
The hipster/dance night
London Calling
started in the cozy, humbling
Upstairs Lounge
on South Grand. It moved to larger digs above the Stable at Cherokee and Lemp as the crowds swelled and became too big for South Grand. It then moved to the
Halo Bar
(6161 Delmar Boulevard) next to the Pageant, where the cover was stripped and the party was free. The popular club night is on the move, again. The new location will be announced on Saturday, the final London Calling at the Halo Bar. For the 21-and-older crowd.
Have a look at London Calling with this RFT slideshow.
Cranksgiving at Atomic Cowboy (Sunday)
Cranksgiving, a bike ride/food drive beginning at noon and departing from the Atomic Cowboy (4140 Manchester Avenue), gets rolling Sunday. To fully participate in this event, each cyclist will stop at various grocery stores along the route and pick up about $10 to $20 worth of nonperishable food items to donate to Food Outreach. Riders can choose between 10- and 25-mile routes, depending on their stamina. To learn more about the benefit, visit
www.willcycleforcharity.com
. or call call 314-664-0828.
Alison Sieloff has even more details here
.
Rams Post-Game Party at Hotel Lumiere (Sunday)
Because the New Orleans Saints are undefeated and our Rams are, well, nowhere near that record, St. Louis fans can relish in the distraction of this post-game party (free admission) at the nearby Hotel Lumiere. There are 25-cent chicken wings, so $10 worth of that commodity should be the antidote to feeling bad about another, imminent Rams loss. Dude-sports Web site Insidestl.com is sponsoring the party, so there's a bikini contest (yes, a bikini contest in November) involved.
More details here
. It starts at 3 p.m.
Losing Paradise? Endangered Plants Here and Around the World at the Missouri Botanical Garden (Ends Sunday)
To aid its members' mission of creating gorgeous art that spurs thoughts of conservation, the American Society of Botanical Artists has created the traveling exhibition,
Losing Paradise? Endangered Plants Here and Around the World
-- and its first stop is our own Missouri Botanical Garden (4344 Shaw Boulevard;
www.mobot.org
).
Losing Paradise
remains on display through Sunday, November 15. Admissions is free with
regular MoBot admission
.