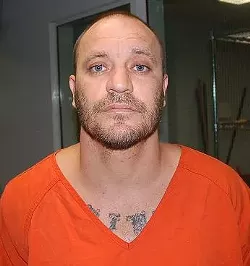 Police Handout
Kenneth Ritrovato Jr.
Officials in Jefferson County yesterday issued warrants for
Angela Parke
of Ste. Genevieve for tampering with evidence and
Kenneth J. Ritrovato Jr.
of Ste. Genevieve for the murder of
Chester Scherer
.
Scherer was last seen at a party on Friday, August 7, 2009 in rural Desoto with Ritrovato and Parke. After Scherer was reported missing investigators say they located a crime scene in rural Desoto that "suggested violence" and became concerned for Scherer's well being.
Police Handout
Angela Parke
The vehicle Scherer was riding in that night was reported stolen and later recovered burned in St. Louis. On Monday, August 31, 2009 investigators and cadaver dogs from the Missouri Region C Technical Rescue Team were searching an area around Upper Plattin Road in rural Desoto, and located the body of Scherer.
Scherer died as a result of multiple stab wounds.
Ritrovato is being held without bond on charges of first-degree murder and armed criminal action.
Parke has been charged with tampering with evidence. Her bond has been set at $7,500.