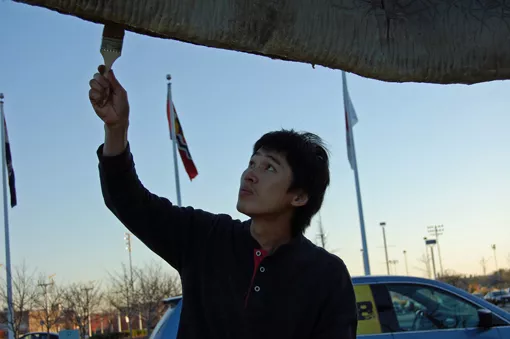 A technician with the traveling "Dinosaurs Unearthed" exhibit repairs the split-open tail of the Apatosaurus statue on Wednesday at the Saint Louis Science Center.
Beth McClure, a spokesman for the
Science Center
, said the attack on the Apatosaurus statue outside the facility came from someone swinging on its tail, breaking it off and splitting it open.
Asked by Daily RFT if religious zealots may have been behind the vandalism, McClure responded: "I can't comment on that or speculate."
She was, however, more than willing to speculate on another theory.
"We think it was just some kids who got too close and were just messing around with it," McClure said.
On Wednesday afternoon a technician traveling with the exhibit used a paintbrush to glue the tail's outer layer back together. Despite the seemingly superficial damage to the statue, McClure said the press release she sent out alerting media to the vandalism at the museum was not a publicity stunt designed to drum up interest in the exhibit.
Judge for yourself, after the jump.



Press Release:

***PHOTO OPPORTUNITY***

SCIENCE CENTER DINOSAUR DAMAGED BY VANDALS

ST. LOUIS-The Apatosaurus that was recently installed outside the Saint Louis Science Center to promote its new exhibition, Dinosaurs Unearthed, is receiving "emergency surgery" today, after vandals broke its tail. An expert from the exhibition company that created the display has cut into the dinosaur's tail, to replace the broken part of it's frame and will subsequently close and patch the skin.

He will be working for the remainder of the afternoon, providing for photo opportunities. Contact Beth McClure with questions or to schedule a time to shoot/interviews.

Science Center representatives, who had already warned trespassers away with signs, plan to install a fence over the next few days to prevent further trespassing and damage. They said they are unsure exactly when the damage occurred.