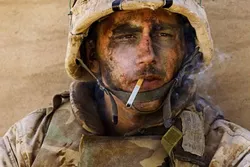 flickr.com/photos/jhudocumenta
The Daily RFT rarely breaks into sudden spasms of outrage, but this horrific story out of the Los Angeles today -- and on Veterans Day for Christ's sake -- has us in full-boil rant mode.

It's the kind of tale that makes you wonder -- what kind of cruel cards is God dealing?
After serving three tours of duty in Iraq and surviving the hellhole that is Fallujah, a Marine named Trevor Nieman comes home and gets himself killed by some crazy man in Victorville, California, as he's installing cable TV.
Believe it or not, the fatal assault came after Neiman got his head smashed, ribs broken and a lung punctured in a knife attack in May at his home in Phelan, California.
Reports the Los Angeles Times:
"But that didn't stop him from following in his father's footsteps and becoming a cable TV installer. On Monday, Neiman, 25, went to a Victorille home. While he was inside, a man grabbed a hammer and fatally beat him."
The alleged lunatic is Johnny Acosta, who apparently was a relative of the Victorville homeowners. Acosta surrendered to detectives without a fight and will be arraigned tomorrow. The motive for the attack is unclear.
"Neiman was trying to build a life," said his sister, Casie Bernard, 26, of Irvine. She said he bought a house in May and recently was married at a "rockabilly" wedding in Las Vegas. "He used to joke about his nine lives," Bernard said. "He tried to live life without fear."
Happy Veterans Day.