Photo: partycovepics.com (site is very, very NSFW)
Captain of the raft at Party Cove in Lake of the Ozarks. Two business owners near the lake are being sued for allegedly allowing raw sewage to flow into it.
For the second time in a little more than a year, raw or partially treated sewage has been dumped into popular vacation spot Lake of the Ozarks, according to two lawsuits filed by Missouri Attorney General Chris Koster.
In one case:
Mark Kelly
, a condo developer, is accused of operating shoddy wastewater facilities, which let sewage flow straight into the lake, a popular swimming hole for Spring Breakers, families, and weekend partiers. Missouri Department of Natural Resources officials knew about the problems in April 2008, and warned Kelly to fix them, but he failed to do so, according to a statement released by the AG's office.
In the other case: The restaurant
Shady Gators
(yes, Shady Gators), owned by
Gary Dean Prewitt
, also the location of a wastewater treatment facility, was the site for sewage runoff right into the lake. According to the state's complaint against Mr. Prewitt, he allegedly allowed raw sewage to bypass the proper filtration system and let it flow into the lake. More than a year ago, Missouri's DNR informed Prewitt to clean up the mess, but he rejected. Then in June 2009, Prewitt told the state the problems had been solved.
So what happens if both men are found guilty?
In both cases Koster is asking the court to issue preliminary and permanent injunctions requiring the business owners to comply with the Clean Water Law; to assess a civil penalty not to exceed $10,000 per day for each violation of the Clean Water Law; and to require Kelly Prewitt each to pay all costs associated with their cases.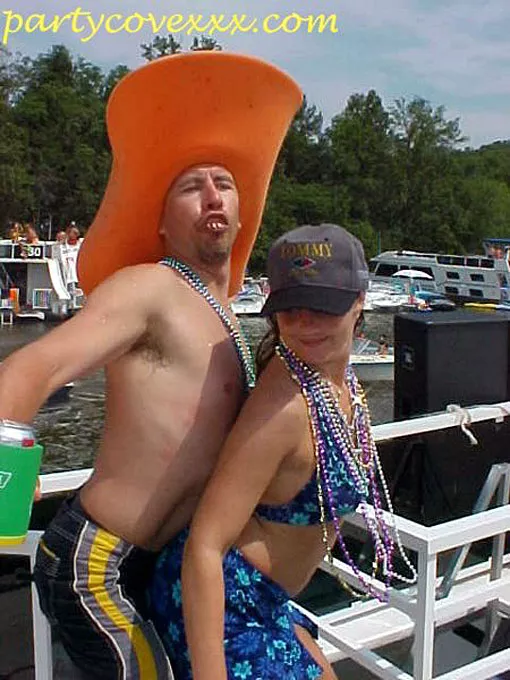 Photo: partycovepics.com (site is very, very NSFW)
Maybe this duo will think twice before jumping in the lake for a swim. Then again, maybe not.
The suits filed against Kelly and Prewitt are the second in little more than a year. In August 2008,
City of Lake Ozark officials pleaded guilty
to dumping 15,000 gallons of sewage into the lake over the course of a year.