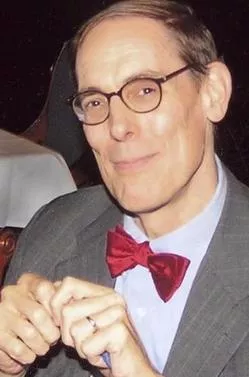 www.randomhouse.com
Judge Robert Dierker
Last week St. Louis Circuit Court Judge
Robert Dierker
was denied a court motion to dismiss a red-light camera ticket issued against him, but the magistrate is undeterred.
Dierker is convinced he'll win when the case when it finally goes to trial.
On October 29 visiting judge
Ralph Jaynes
over-ruled Dierker's motion that the case be dismissed on constitutional grounds. Dierker contends that the red-light camera system violates due process of the law by presuming guilt. The judge says that he can't say for sure whether he was the person driving his car when it was ticketed on Kingshighway last December for running a red light.
Instead of simply paying the $100 fine for the ticket or trying to argue it in traffic court, Dierker demanded a jury trial in circuit court. It's believed that his case would be the first to reach a jury in St. Louis. (A pre-trial conference is schedule for later this month.)
Dierker says he may represent himself at trial, where he'll argue three key points:
The system's presumption of guilt is invalid
The citation he received contained deficiencies, such as no signature from the prosecutor
No ordinance -- that he's found -- supports the $100 fine for the tickets.

In July a federal judge dismissed a similar challenge to red-light cameras in Arnold, Missouri. Dierker tells
Daily RFT
that he's not concerned with that ruling.
"The Arnold ordinance is worded differently," says Dierker.
Still, the judge realizes that many courts have ruled in favor of red-light cameras.
"The big issue has been the presumption argument," says Dierker. "It's been litigated across the country, and most rulings have upheld the presumption."
Despite being labeled as a "crusader", Dierker says his sole intent is to receive an acquittal -- and not to overturn the city's use of red-light cameras. "I view this this as one case concerning one individual."
Dierker has served as a judge in the circuit court for 23 years. Before that, he was an attorney with the St. Louis counselor's office. Part of his job in that capacity? Prosecuting people for traffic tickets.
This is not the first time that Dierker has raised eyebrows among his fellow judges in the circuit court. In 2006, Dierker published the book
Tyranny of Tolerance
: "A Sitting Judge Breaks the Code of Silence to Expose the Liberal Judicial Assault." The title to the first chapter in the book: "The Cloud Cuckooland of Radical Feminism."