Houghton Mifflin Harcourt Publishing Company
Reichl
Last month,
Ruth Reichl
, food writer and editor of
Gourmet
, was scheduled to visit St. Louis at the behest of
Left Bank Books
and give a talk at
COCA
to promote the new cookbook
Gourmet Today
. That was the week her magazine shut down.
Last night, Reichl (whose last name is, for the record, pronounced RYE-shul) finally made it here. She pimped out the new cookbook admirably and praised St. Louis' chefs. But the overall mood was subdued, more like a funeral than a book party. (The night before, Reichl wrote in her personal blog, the magazine's staff had had its
goodbye party
.) Now that the magazine was gone, Reichl said more than once,
Gourmet Today
, which is a report, in recipes, from the food revolution over the past five years, would be the last cookbook of its kind.
(In lieu of black armbands, the books had stickers on their jackets promising each buyer a free year-long subscription to
Gourmet
.)
Gourmet
was a great magazine. It had great (and often drool-inducing) photography, great writing and, despite its name, presented a great range of food, from the fancy, cutting-edge stuff served in the country's best restaurants to the simple comfort food slung in the country's best diners.
Every recipe went through an exacting testing process that astounded even Reichl, an experienced cook who had once edited the 65-page weekly food section of the
LA Times
. If a recipe was good, the magazine's test cooks would prepare it again to make it better. And again. And again. Then a team of editors would spend an hour dissecting the recipe, to make the writing more clear. Finally, it would be handed off to another test cook, one who had had no involvement with the recipe at all, to make sure anybody could get the same result as a cook who had prepared the dish ten times or more.
The simplest recipe in
Gourmet Today
,
Whole-Wheat Pasta with Pecorino and Pepper
, which has only three ingredients, went through eleven rounds of testing. "Who can afford that anymore?" Reichl asked rhetorically.
Reichl was generous toward her former employer,
Conde Nast
. "Our main advertisers were luxury brands," she explained. "Travel, cars, financial institutions, jewelry. None of those are advertising anymore." She had suggested to Si Newhouse, CEO of Conde Nast, that Gourmet operate on a business model more like that of rival
Cooks Illustrated
, charging a higher subscription rate and eliminating the need for advertising altogether. But it was no-go.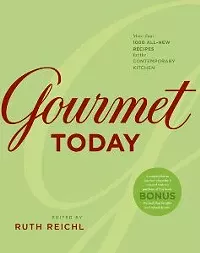 Houghton Mifflin Harcourt Publishing Company
Gourmet
will continue to live on through its TV shows,
Diary of a Foodie
and the new
Adventures With Ruth
, in which Reichl visits cooking schools around the world. The fate of its web site is still uncertain, but the recipes will continue to be available on
Epicurious
, Conde Nast's food site. "But it won't be as good without
Gourmet
," Reichl said, in a rare flash of bitterness.
Some audience members, during the Q&A session, tried to cheer Reichl up by asking her to tell more stories about her mother, "The Queen of Mold," immortalized in her first memoir
Tender at the Bone
, and about Berkeley in the 70s, when she first began writing seriously about food.
And finally, what were Reichl's impressions of the St. Louis food scene?
Here, she rallied. "I had lunch today at Monarch prepared by four local chefs," she said. She couldn't remember all of them, but the audience cheerfully supplied the names: Josh Galliano of Monarch, Gerard Craft of Niche, Michael Roberts of Atlas and Kevin Nashan of Sidney Street Cafe.
"My husband is from St. Louis," Reichl continued. "I told him, 'We're going to have to come back here...and eat!'"