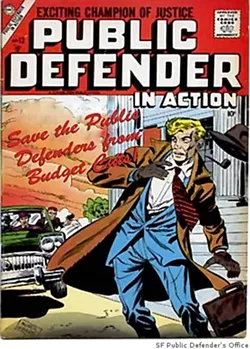 Any good cop TV show has the same line. Just as the criminal is being placed in shackles, the police officer states: "You have a right to an attorney. If you cannot afford an attorney, the state will provide you one."
Did you know, though, that that line isn't necessarily true? At least not in Missouri where the state's overburdened public defenders have adopted rules allowing them to deny counsel to two types of criminals:
Those who first hire a private attorney and then drop that initial lawyer for a public defender
Those accused of violating the terms of their probation.
But shouldn't public defenders be compelled to provide legal counsel to any and all accused criminals?
That's the question being weighed in Jefferson City as the
Missouri Supreme Court yesterday heard arguments
on both sides of the debate.
On one side are the state's prosecutors, who argue that anyone faced with possible prison time deserves public counsel.
On the other, are the public defenders who note that they average nearly 300 cases a year -- or twice the 150 felony cases that the U.S. Department of Justice recommends as the maximum amount for any public defender.
Adding to the public defenders, umm defense, is a
study last month warning that Missouri's public defender system
was reaching "an overwhelming caseload crisis" and pointing out that the state ranks 49 out of 50 in per-capita spending on indigent defense.