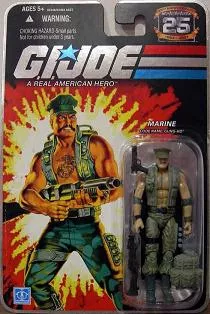 Unreal recently received an email asking if
Riverfront Times
would pass along a PSA promoting the Marine Corps' annual St. Louis
Toys for Tots
campaign.
Sure thing. Toys for Tots is a worthy charity providing holiday gifts to less-fortunate children. And this year,
when you bring in a toy to one of dozens of local restaurants
, you get free or discounted food.
Not a bad deal, we thinks.
Still, for some reason the PSA (below) reminded Unreal not so much of Christmas cheer. Instead, we're remembering why we could never hack it in the military.
Tell us, does Lt. Col. Tomko remind you of anyone? Perhaps the following figure?