As the World Series heads back to Philadelphia tied at one game apiece, both the
Yankees
and the
Phillies
have reason to be optimistic. The Phillies have to feel great about where they stand, as they succeeded in wresting home field advantage away from the Yankees and now have three games in their own building. The Yankees probably don't feel quite
as
good, honestly, but they also have to be fairly optimistic,
given they came back from a complete ass kicking in Game 1
to tie the series up and get a bit of positive mojo back on their side.
But there's one man who feels far, far better about the series than either of the teams involved. His name is Derek Braunecker, and he has officially hit the jackpot.
The
New York Times
has
a very nice profile of Braunecker
, who just happens to be the agent who represents both
Cliff Lee
of the Phillies and
A.J. Burnett
of the Yankees. Not such a bad deal, really, representing World Series heroes.
Of course, when I say he's hit the jackpot, technically, that's not entirely true. Braunecker already hit the jackpot many times over this past winter, when Burnett signed his monster 5 year, $82.5 million contract with the Bronx Bombers. (By the way, I thought that contract was a bad idea at the time, and I still think it's a bad idea. Burnett's injury history is far too long for me to believe a contract of that size is a good bet.) Still, when two of your clients are the winning pitchers in Games 1 and 2 of the World Series, you have to expect that's going to carry some sort of benefits your way.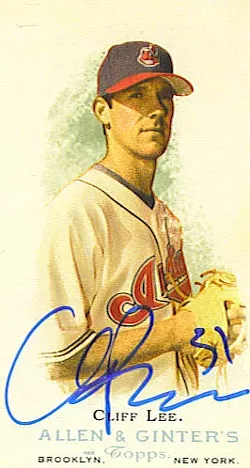 First off, there's the very large contract extension Lee will be in line for in the very near future. I have to think the Phillies will do everything they can to lock him up long-term, considering how effective he's been since joining them midseason. Just how large an extension are we talking? Well, that's tough to say, honestly, as Lee has been, and to some extent remains, one of the most enigmatic pitchers in all of baseball.
Looking at
Lee's career numbers
are a bit like following the stock market, honestly. Dizzying highs and crushing lows, and very little warning as to when or why either is coming. His breakout season was 2005, when he went 18-5 with a 3.79 ERA. At age 26, he looked like one of the brighter young stars in the game. In 2006, though, he looked decidedly average, posting a 4.40 ERA, and the wheels came off completely for Lee in 2007. He threw only 97 innings for Cleveland that year before he was banished to the minors. He was hurt by an oblique strain early in the season and seemed to struggle getting healthy, but a 6.29 ERA doesn't lie very often.
Of course, we all know the story since then. Lee came back in 2008 rededicated to the game, went 22-3, 2.54, and won the AL Cy Young Award. He had outstanding, if not quite so gaudy, numbers in 2009 as well, with a 3.22 ERA between Cleveland and Philadelphia.
So we have a pitcher firmly in the prime of his career, who has never had significant arm trouble, with one Cy Young already to his credit. The Phillies hold a club option already for $9 million, which is a no-brainer to be picked up. Still, it wouldn't surprise me if they moved to try and get something done this offseason, instead of waiting for Lee to get closer to free agency. If I were a betting man, I would place the over/under for a new Cliff Lee contract somewhere in the 4/$48 million range this offseason. If the Phillies do decide to wait for next year, that number could skyrocket if Lee goes out and has another great campaign.
Even more important than just the money from Lee's upcoming extension, though, for Mr. Braunecker is the prestige of having two clients featured so prominently on the biggest stage baseball has to offer. One can only imagine the impression it would make on prospective clients to see on the wall of Braunecker's office two photos, one each of Burnett and Lee, as each make their World Series debuts and get the win.
Regardless of how the World Series ultimately turns out and which team gets the win, I think it's safe to say the biggest winner may be a man who never took a single at-bat nor threw a single pitch.