Pop singer
John Oates
has re-grown his world famous mustache after a two-decade hiatus.
Oates, part of the super group
Hall and Oates
, debuted his new lip hair today in St. Louis where he'll headline tonight's
"Stache Bash"
party presented by the
American Mustache Institute
.
Photo: Chad Garrison
A big thumb's up to Oates' new handlebar mustache.
Oates tells
Daily RFT
he vividly recalls the day he shaved off the mustache he had worn throughout his meteoric rise up the pop charts in the 1980s.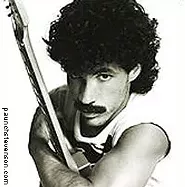 Oates' vintage '80s 'stache.
"We were playing a concert in Tokyo in 1989 that Yoko Ono had arranged to commemorate the anniversary of John Lennon's death," says Oates. "I was going through a lot of personal stuff then, and after the show I was back in the hotel and just looking at myself in the bathroom mirror. I looked down toward the sink and there was a razor sitting there, and with that I shaved off the mustache and haven't look back."
Until now.
So why did Oates decide to re-grow his famous lip hair after so many years?
Answer: For a worthy cause. As the honorary entertainer for 'Stache Bash 2009, Oates will help raise thousands of dollars tonight for
Challenger Baseball
, a St. Louis sports league for children with disabilities.
At a ceremony this morning in a downtown grocery store (and sponsor of 'Stache Bash),
Mayor Francis Slay
recognized Oates in declaring October 30 "Mustache Day" in St. Louis.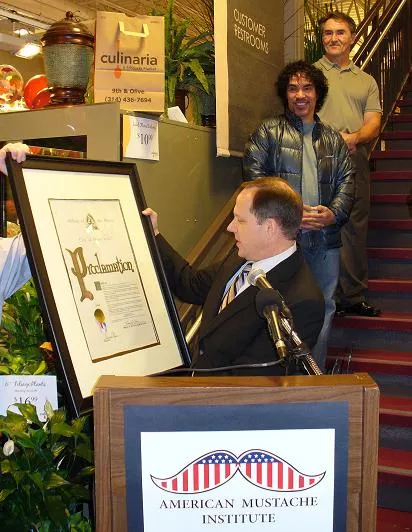 The
proclamation
read, in part:
Whereas, the learned citizens of St. Louis have demonstrated a keen appreciation for a handsome mustache, realizing that a well-fashioned lip-sweater knows no bounds of race, creed or color...
Whereas, the American Mustache Institute will reunite music legend John Oates with his mustache at Stache Bash 2009...
I hereby declare today, October 30, as "Mustache Day" in the City of St. Louis.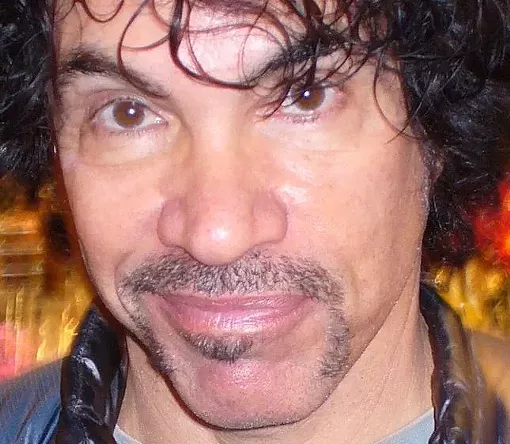 Photo: Chad Garrison
Close up of Oates' porn born-again stache.
Oh, and by the way, Oates tells Daily RFT he's well aware of the cartoon series
"J-Stache"
about his mustache. In fact, he's a co-producer of the cartoon!