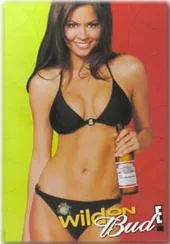 Not all ladies are so wild on about Budweiser.
Francine Katz
thought her 2002 promotion to Vice President of Communications and Consumer Affairs at Anheuser-Busch was her ticket to untold riches as an executive of a major corporation.
Instead, Katz claims she received compensation worth just a fraction of what A-B paid her predecessor. The pay disparity continued despite complaints she made to the brewer's top executives, including
August Busch III
and
August Busch IV
.
In a discrimination lawsuit filed today in St. Louis Circuit Court, Katz alleges that a corporate culture akin to a
"locker room and frat party atmosphere"
at Anheuser-Busch (now AB-InBev) adversely impacts female managers such as herself.
Katz is seeking hundreds of thousands of dollars in lost wages she claims she's entitled to as a result of the alleged discrimination.
In the suit, Katz maintains she was paid just $500,000 in compensation when she was first promoted to the job. Meanwhile, her predecessor --
John Jacob
-- earned $1.25 million prior to his retirement.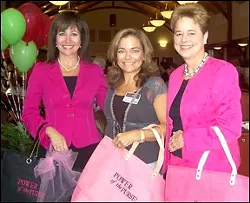 www.uwbb.org
Francine Katz (far left) hosting a United Way event.
When Katz complained about the pay, she alleges that Busch III told her she was being ungrateful and could have been paid less.
(A curious aside: About year after her conversation with Busch III, Katz went on to defend the brewer in a
suit alleging sexism and homophobia
in which A-B was accused of placing "Queen of Carbs" decals on packages of Miller Lite.)
Anyhoo, after five years on the job, Katz claims her 2007 salary and bonus were still worth only around 46 percent ($575,000) of what Jacobs had earned previously. Katz states in the suit that she then tried to schedule a meeting with Busch IV, but the then CEO of Anheuser-Busch ignored her requests.
In 2008 Katz further learned that she was paid lower than every male member of the Strategy Committee -- the company's top council of executives -- and that her targeted bonuses were also far less than those on committee. The only Strategy Committee member compensated as poorly as Katz was the committee's only other woman --
Marlene Coulis
.
The lawsuit states that Katz resigned the company effective December 31, 2008, after her responsibilities were reduced following the InBev acquisition of A-B. However, Katz refused to sign paperwork releasing the brewer of any civil claims and has therefore not received severance for her resignation.
In March of this year Katz filed a discrimination claim with the Missouri Commission on Human Rights. Last Thursday the agency issued Katz a notice of "right to sue."
The lawsuit complaint (viewable in its entirety after the jump) further alleges that A-B maintains a low proportion of women executives, excludes women from social networks, and fails to rotate women to assignments that would improve their careers.
abpetition