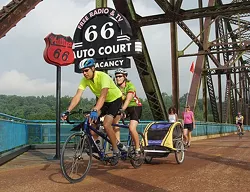 http://www.flickr.com/photos/26129297@N02/ / CC BY-SA 2.0
Bikers on the Old Chain of Rocks Bridge
How's that for
progressive
! This week the
League of American Bicyclists
named their
Bicycle Friendly Communities for 2009
.
St. Louis was one of 15 cities new to the rankings and was singled out in the league's
press release
for improvements the city has made to encourage pedal-powered transportation.
St. Louis, Mo., for example, is one of the 70 largest cities surveyed in the ACS and a new BFC. The community nearly doubled their number of bicycle commuters from 2000 to 2008. The city has completed several noteworthy projects within the past year, including 53 new miles of on-street additions to the bikeway system, a $10 million investment, and an expansion of bicycling education offerings for children and adults. "St. Louis like cities across the country, is making smart investments in building a welcoming community for biking that will inevitably lead to more, healthier and sustainable transportation options and increased recreational opportunities." stated Bill Nesper, League Director of the Bicycle Friendly America program.

Read more about what the judges
liked about St. Louis
and check out a
map of all bike friendly communities
on the league's website.