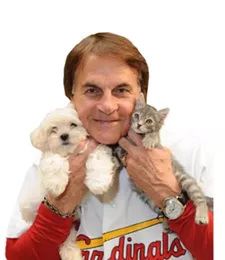 That's right. Yesterday,
Tony La Russa
joined the ranks of millions when he
registered a real Twitter account
under his name.
As you'll recall, the Cardinals skipper
sued Twitter
back in May, when he discovered someone was passing himself (or herself) off as La Russa on the popular social media site. The lawsuit alleged that Twitter was damaging the trademark rights to La Russa's famous name.
The
legal claim was soon dropped
, however, when it became evident that La Russa didn't stand a chance of winning the suit, thanks in part to federal laws that prevent websites from being held accountable for what their users post online.
Following the suit's dismissal, a rumor circulated that La Russa agreed to settle the case after Twitter made a sizable donation to La Russa's
Animal Rescue Foundation (ARF)
. But that wasn't true. The case was settled without any monetary compensation,
according to reports
.
We bring this last tidbit up, because ARF is all that La Russa has tweeted about thus far on his account.
Yes, even as Redbird Nation remains on tenterhooks awaiting his decision as to
whether he'll sign on to a fifteenth season
with the Cardinals, La Russa has ARF on his mind.
His tweet yesterday announces that he's working on his
Stars to the Rescue
benefit concert. "Stay tuned here for performer announcements," writes La Russa.
Hmm, wonder who he's got in mind for this year? Huey Lewis? REO Speedwagon?
Guess we'll have to follow
TonyLaRussa
to find out.