Our feature story this week delves into
the wacky world of anvil shooting
.
According to esteemed anvil historian
Richard Postman
, anvil shooting is an American tradition that's been around for almost 300 years. It originated as a way for people to celebrate holidays with bang. A really, really big bang.
All the process requires is two large anvils (not cheap, not easy to find), a fuse, peanut butter, notebook paper, and a pound of gunpowder. Combine said elements, add fire, run like hell, and an anvil will soon be flying high above your head.
In this video*, Gay Wilkinson, a former world champion anvil shooter (yes,
there's a competition
) and the ex-mayor of Farmington, Missouri shows the
RFT
how it's done:
*No roadrunners were harmed in the making of this video.
Not that you should try this at home, but here's more info: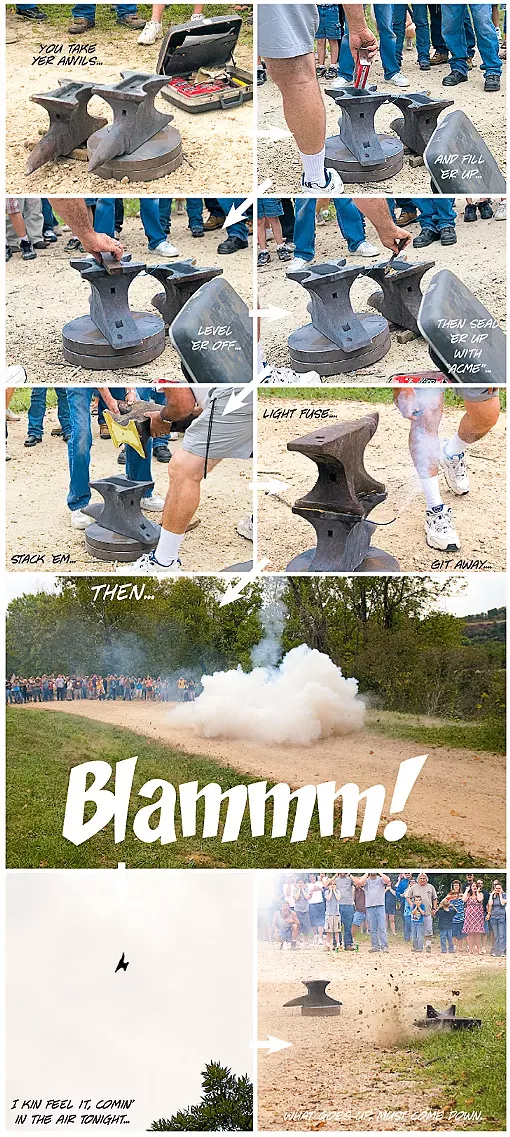 photos by Jennifer Silverberg, captions/comic strip by Tom Carlson
Still haven't had enough anvil shooting? Here's
an exceprt from the story
:
At the Mountain Man Rendezvous, Wilkinson tells the crowd that settlers on the American frontier used the report produced by packing black powder beneath an anvil to imitate cannon fire and ward off Indian attacks. Southerners, meanwhile, claim the practice evolved during the Civil War, when Union troops attempted to destroy Confederate weapon-making capabilities by blowing up every anvil they encountered.

Postman, though, says the practice dates back further, to the late 1700s: "It goes back to Revolutionary War times. They'd fire it mainly for noise: It really makes a bang for Fourth of July, Christmas -- any holiday or celebration."

These days anvil shooting usually transpires at obscure community festivals. The Mountain Man Rendezvous has featured an anvil-shooting exhibition for nearly twenty years. Until recently the town of Millington, Tennessee, hosted a popular anvil-shooting contest at its Goat Days Festival. The contest in Laurel began at the Jones County Forestry and Wood Products Expo before moving to a private farm.

Despite their shared implement, anvil shooters and contemporary blacksmiths have not forged a common bond. About a decade ago, the Artists Blacksmith Association of North America, whose membership of 5,000-plus makes it the largest blacksmiths' group in the United States, banned the practice because of safety concerns.

"We lost a good six or seven hundred members because of that decision," says Rome Hutchings, president of the organization. "The board took action and disavowed several rogue chapters that continued that activity."

Hutchings can't recall a specific incident or injury that prompted his organization to outlaw anvil shooting, but he heatedly defends the policy. "It's dangerous," he says. "It's probably one of the more dangerous things that can be done. I've heard reports of anvils coming down on top of people's cars, anvils flying apart, near misses with human beings.

"It's really not a sensible thing to do with an anvil."