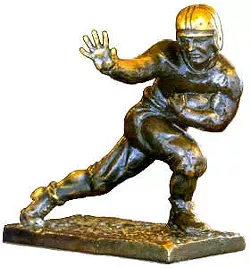 Back off! I'm just here for the trophy.
As everyone has heard by now, times are tough on the auto lot.
Even after the incredibly popular "Cash for Clunkers" incentive in August, sales of new cars this year are
trailing last year's numbers
by 11 percent.
As such, auto dealers are trying anything and everything to get customers into the showroom. We're just not so sure that the following is the right, um, sales vehicle for the job.
That's right, the award given each year to the best college football player in America will be on display from 3 p.m. 8:30 p.m. at the dealership.
Question is, though, will it sell cars or encourage visitors to the dealership to emulate the statue and give Auffenberg's salespeople the ol' stiff-arm (a.k.a.
"The Heisman"
)?
For the economy's sake, let's hope it's the former.