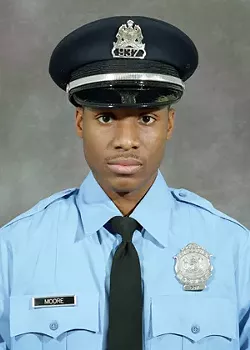 St. Louis police officer
Julius Moore
died yesterday as a result of injuries sustained during an on-duty vehicle accident on October 6. He was 23 years old.
Moore was responding to a burglary call with his lights and sirens on, when his car was hit by a tractor trailer around 1 p.m. on Friday, October 6. The crash pushed Moore's patrol car into a traffic light and brick wall before coming to a rest. No charges are pending against the truck driver at this time -- though an accident reconstruction is ongoing.
Moore remained in Saint Louis University Hospital's intensive care unit until he drew his last breath last night around 6:10 p.m. He is survived by his wife and three children -- two boys and a daughter all under the age of five -- his parents and a sister.
Funeral arrangements are pending. Moore, a 2004 graduate of Normandy High School, joined the police force in 2007 and spent his entire career serving department's south city District 3.