Cover from the December 10, 2008, RFT
Daily RFT
had a chance yesterday to talk to Alton's new mayor
Tom Hoechst
(sworn in this past May) about the city's notorious topless bartenders.
At Hoechst's direction, the city's new police chief,
David Hayes
, last week began strictly enforcing the city's public-indecency ordinances. The stepped-up efforts resulted in a
quick, ahem, bust
as police found a topless bartender in the Pub Room scurrying to a back room as the cops entered the tavern.
Last fall
Riverfront Times
chronicled Alton's topless-barmaid phenomenon in a feature story titled "
Alton Confidential
." More recently the dive bars of Alton were chosen (collectively) as the region's "
Best Strip Joint
" in
RFT
's 2009 "Best Of" issue. That's an honor that Mayor Hoechst would just as soon do without.
Daily RFT: Why the crackdown? You don't enjoy a good show?
Mayor Hoechst:
First of all, it's not legal. Second, it's not something you want to be known for. I'm working with the city attorney and police chief. We're sending out a letter to all liquor-license holders to let them know this activity is not going to be tolerated. There is no "three strikes, you're out." The first time you're caught, your liquor license is going to be revoked for some time and you're going to be fined.
Why do you think Alton bars have become known for this kind of activity?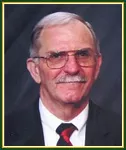 ​I have no idea. I'm not naive. I know it's been going on. But why was it tolerated? I don't have an answer for that.
Last year your predecessor [former mayor Donald Sandidge] told us that one of the reasons the city couldn't crack down on topless bars was that the indecency law only applied to females. Did Alton officials pass the ordinance -- discussed last year -- that would also ban male topless bartenders?
Yeah, that passed. That was just to avoid problems later on with some nonsense or discrimination claim.
Are you at all worried that people might not come to Alton, as a result of your tougher stance on public nudity?
This is not the kind of activity you want people coming to town for. I read the article last year in Riverfront Times about this, and to tell you the truth it depressed me. We're getting much stricter on drug activity and any other vices that bode ill for the community.
Jessica Thomas, bartender found working topless October 8 at the Pub Room in downtown Alton.
​W

hat's going to happen to the Pub Room, where the bartender was found nude just last week?
At this point I don't know. Tell you the truth, I didn't know Chief Hayes was going to crack down on these bars as soon as he did. I don't have a problem with that, because we need to put a stop to it. But like I said, we're about to send out letters letting everyone know where we stand and that it won't be tolerated. The owner of the Pub Room called me after this and said he fired the bartender and doesn't condone that type of behavior. I thanked him and took him at his word.
So, it sounds like the days of topless barmaids in Alton are numbered.
They are if I have anything to say about it.