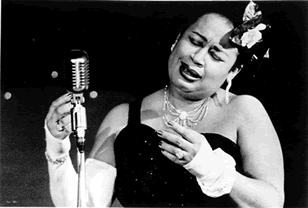 Unity Theatre Ensemble
is this area's stealth company -- except when they're performing. Then it's everything they can do to keep the roof nailed down. But publicity is not their strong suit. Music is. Until their
Cotton Club Revue
got nominated for four Kevin Kline awards earlier this year, many people had not even heard of them. But we sure heard them at the Kevins; their
Cotton Club
excerpt rocked the Loretto Hilton. This week and next they're back doing what they do best, playing the Ivory Theatre with a revue about Billie Holiday titled
Lady Day at the Boston Bistro
. It promises to be a rousing evening. Take earplugs and expect to sway.
Across town at the Edison Theatre, the musical adaptation of E.L. Doctorow's historical novel
Ragtime
is being staged through November 1 as a joint production between
Washington University and the Black Rep
. The original mounting, which started in Toronto and then enjoyed a lengthy stay in Los Angeles before opening on Broadway in 1998, had the misfortune to debut in the same season as
The Lion King
, which garnered most of the awards and attention. Still,
Ragtime
managed to run for 834 performances and made stars of Brian Stokes Mitchell and Audra McDonald.
With The Lion King still firmly ensconced on Broadway, Ragtime is receiving a major New York revival next month. Here is your opportunity to beat the Broadway crush (not to mention the travel). Though surely the St. Louis staging will not be so elaborate as what has been and will be seen in New York, the songs by Stephen Flaherty and Lynn Ahrens should continue to invigorate and even thrill. There's a lot more to this musical than ragtime, though you'll hear some of that too.
Another university production is offering provocative theater, as well...
​The
University of Missouri-St. Louis
is staging
The Last Days of Judas Iscariot
, a witty courtroom drama, set in Purgatory, that inquires into the culpability of Judas I in the betrayal of Jesus of N. There's something here to offend everyone in the script by Stephen Adly Guirgis. HotCity Theatre had a lot of fun with this play three years ago; now it's the students' turn. The production, which has been directed by Jason Cannon, runs through October 24.
Finally, though I'm giving you short notice, tomorrow night
tonight
(October 16
15
)
Hal Holbrook
is back at the Bezemes Family Theater (in Lindenwood's J. Scheidegger Center for the Arts) performing
Mark Twain Tonight!
So far as I'm concerned, Holbrook essentially created the one-man show when (at age 29) he began portraying Twain in 1954. Now 84, Holbrook and his Twain have outlived the real Samuel Clemens by a decade. But years are secondary to this timeless incarnation. Hal Holbrook's Twain is an American theater treasure.