Photo: Chad Garrison
Citizens Against Prop. N: Rev. Harold Hendrick, Fred Teutenberg, Scott Simon, Jon Rand, Bill Hannegan
A somewhat unlikely group of bar owners, bowling advocates, tobacco salesman and -- yes -- a Christian radio host, gathered today in University City to announce their opposition to a smoking ban proposal for St. Louis County.
The group, calling itself "Citizens Against Proposition N", held a press conference pointing out perceived injustices to the November 3 ballot proposal that will ask county voters to enact a smoking ban for many bars and restaurants. Casinos and so-called "drinking bars" that earn 75 percent or more of their income from liquor sales would be exempted from the ban.
"Why just drive customers away from certain businesses and not all?" asked Scott Simon, a spokesman for the Greater St. Louis Bowling Association that represents some 20 bowling alleys in the county. "The law needs to be good for everyone."
Perhaps the best-known smoker in all of St. Louis --
Fred Teutenberg
-- was also on hand to argue against the ban. The former pitchman for
Dirt Cheap Cigarettes & Beer
, Teutenberg recently parted ways from his old employer to start his own low-cost tobacco store:
Fred's Cheapo Depot
.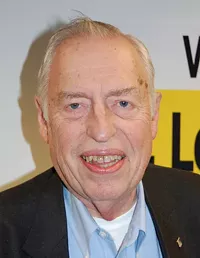 Dirt Cheap

Fred Cheapo Depot
Fred Cheapo Depot
​"Let the marketplace decide the matter, not the government," said Tuetenberg in a speech punctuated by what seemed to be a smoker's hack. "There are places to work for people who don't want to be around smoke, and there are restaurants and bars that already ban smoking for those who don't want to be near it."
The
Rev. Harold Hendrick
, director of public affairs for Christian broadcaster
Bott Radio Network
, said he opposes the ban because of its exemption of casinos. "Here again we have the county caving in to casinos, just so it can go to them hat in hand and make sure it's getting its cut."
Asked if he would support a smoking ban if casinos were included, Hendrick replied: "The Christian community is pretty much split on that scenario." Really, Christians?
Bill Hannegan
, founder of
Keep St. Louis Free
, meanwhile cited statistics suggesting that county bars and restaurants could expect to lose revenue if a ban were enacted. Hannegan also warned that he and others would sue the county should the measure be voted into law.
This summer the
Missouri Supreme court rejected a lawsuit
challenging Kansas City's smoking ban. Hannegan says a lawsuit against St. Louis County would not challenge the ban, per se, but the constitutionality of excluding some businesses over others.
"There's reason to believe that such exclusions would be illegal under the law," said Hannegan.
Members of Citizen's Against Proposition N say they'll be running print ads and sending out mailers in coming weeks encouraging county voters to oppose the ban.
Well-known gadfly
Tom Sullivan
organized the citizen's group in response to legislation that he sees as overly restrictive. "We already have enough restrictions on smoking compared to just 10-15 years ago," says Sullivan, a non-smoker who has fought tobacco tax hikes in the past that he thought discriminated against smokers. "If a private business wants to allow people to smoke, then let them."
Sullivan added that the only place he was ever bothered by smoke was Cousin Hugo's in Maplewood, but the bar/restaurant has since installed smoke-eaters.