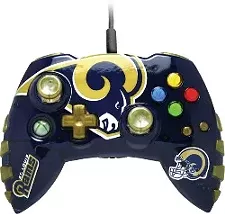 The Rams are in play, and everybody's got an opinion.
NFL Commissioner
Roger Goodell
expressed reservations yesterday at the prospects of
Rush Limbaugh owning the St. Louis Rams
.
"The comments that Rush made about Donovan [McNabb] I disagree with very strongly. [They were] polarizing comments that we don't think reflect accurately on the NFL or our players and I obviously do not believe that those comments are positive and are divisive. I disagree with those comments very strongly and I've told the players that."
Asked what his reaction would be if a present owner aired commentary like Limbaugh's, Goodell added:
"We're all held to a high standard here and divisive comments are not what the NFL's all about. I would not want to see those kind of comments from people who are in a responsible position in the NFL, no. Absolutely not."
"I, myself, couldn't even consider voting for him," Irsay said. "When there are comments that have been made that are inappropriate, incendiary and insensitive ... our words do damage, and it's something that we don't need."
Oh, and of absolutely no consequence, St. Louis freshman Alderman Antonio French also said Limbaugh wouldn't be good for the city.
"Here in the city we have had issues in the past with racial division, and I think a lot of us have been working really hard to heal some of those wounds," French told
St. Louis Public Radio
yesterday. "I would just hate to see the presence of one very controversial individual could in any way damage any of the healing and work that we've done."