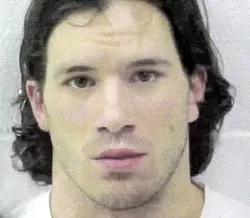 Last time we wrote about
Mike Danton
, the former Blues player
was in federal prison
and his agent --
David Frost
-- had just launched a website in which Danton was supposed to be a regular contributor.
That was back in January, and the website --
Hockey God Online
-- never amounted to much. Danton (from what we could tell) never contributed to the site, which would make sense seeing how he was
in prison for hiring a hit man to kill Frost
!
But then Danton's case (
read more about it here
) never made a hell'uva lot of sense. As the judge stated when he sentenced Danton in 2004: "In over 18 years on the bench I have never been faced with a case as bizarre as this one."
Danton's saga provided a new twist last month when he appeared before a parole board after serving five years of his 7-and-a-half year sentence.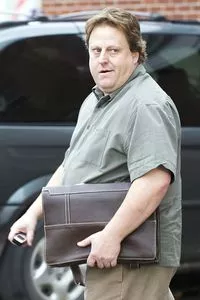 Frost (pictured right) was not the target of the hit, Danton told the parole board. Instead, it was Danton's father -- Steve Jefferson -- from whom Danton had been estranged from since age 15. (In 2002 Danton changed his name from "Jefferson" to Danton to further distance himself from his family.)
How could this be? Danton's parole hearing last month received scant -- if any -- coverage here in St. Louis. But
according to the Associated Press
, Danton told the parole board he was suffering from paranoia (brought on by sleeping pills and stimulants) and believed someone planned to murder him and his agent, Frost.
Per the AP:
"Why on earth would you believe that?" board member Michael Crowley asked. "That's like talking about the bogeyman."

"Over the years there were conversations that pointed to someone who would have interest in ending my life and ending [Frost's] life," Danton said, adding he received "verbal confirmation" from a family member.

He told the hit man to kill someone who would be in his apartment over two days, and Crowley noted Frost was there at the time. But Danton said Frost wasn't the person he believed was coming to kill him.

"It's clear that you thought it was your father who would do you harm," Crowley said.

"Right," Danton replied.
Keep in mind it's not clear that Danton's father was ever remotely near St. Louis at the time Danton tried to contract a hit man. Consider, too, how utterly wacko Danton's relationship is/was with Frost.
After being arrested on charges of contracting to kill Frost, it was Frost who came to Danton's aid and became his jailhouse confidant. The two logged hours and hours of telephone calls (
available for a listen here
) in which they discussed the case and other things -- including Danton's sex life.
It's not the first time, the media and law enforcement have taken an interest in Frost's unusual relationship with his players.
Last November, a judge in Canada acquitted Frost on charges of sexual exploitation stemming from a coaching gig he held in that country in mid-1990s.
According to reports
, Frost shared an apartment with several of his teenage players at the time and often instructed the players to have sex with their girlfriends while he watched. One woman testified that Frost would allow her former boyfriend to have sex with her only if Frost also joined in on the action.
Back to Danton's parole hearing ... After the strange confession last month that he wanted to kill his father, the parole board agreed to let Danton out of prison believing that the former NHL player had benefited from therapy and would be a low risk.
The parole stipulation provides that he have no direct or indirect contact with his father and that he have no face-to-face contact with Danton -- unless approved by the parole board.
For everyone's sake, let's hope the parole board keeps it that way.
Oh, and Danton says he wants to return to professional hockey. We shall see.