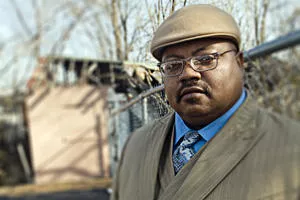 photo by Jennifer Silverberg
Former Kinloch police captain Everett James
In January 2007, Kinloch police captain Everett James shot a suspect after a physical confrontation that left the veteran officer hospitalized with wounds to his face and head. Shortly after he was released from the hospital, the city of Kinloch sent him a bill for nearly $3,000, telling him he had to pay for the injuries he sustained in the line of duty out of his own pocket.
Like nearly two dozen other Kinloch public servants -- the city's six-man police force -- James was working without insurance or a workman's compensation program.
The captain stayed with the Kinloch police force until he was fired by the city's mayor, Keith Conway, in March of this year for
organizing a short-lived strike
by other officers in the department. In addition to complaints about the lack of insurance, workman's comp, and health benefits, the policemen were upset about unpaid wages and unsafe working conditions in the impoverished and crime-plagued city.
Yesterday, the attorney general's office filed misdemeanor charges on behalf of the
Missouri Department of Labor and Industrial Relations
against Mayor Conway for violating the state statute requiring cities to provide insurance and workman's comp.
Via the
Post-Dispatch
:
With a few exceptions, all employers -- including municipalities -- of more than five people in Missouri must comply, officials said. Kinloch, a community of about 450 people near Lambert-St. Louis International Airport, is said to have about 25 workers.

The city could be fined more than $55,000, officials said, which would go to [St. Louis County public ] schools.

Documents filed this week in St. Louis County Circuit Court say there is no record of coverage from June 2006 until March.

James' complaints and the "blue flu" strike he organized in March were first reported in
RFT
.
Click here to read the whole story
.
At the time, the Kinloch mayor claimed that the city did in fact have a workman's comp program. He also denied that James had been fired, even though the officer had a termination letter signed by Conway.
The story also touches on Kinloch's sad history: it was originally founded as the first all-black community in Missouri but fell on hard times when expansion at Lambert airport stripped it of its tax base and left it
the poorest of the county's 91 municipalities
with an annual budget of about $600,000. Kinloch has also had its share of police woes -- St. Louis County Police have had to take over patrol duties seven times since 1967.
Since being fired from the Kinloch police department, James, who lives nearby in Berkeley, has been working private security jobs and preaching at the Kinloch Church of God, where he is a minister.
View Larger Map