Editor's note published 10/21/09:
New Line Theatre has canceled the remaining performances of
Love Kills
owing to "personal loss in the company."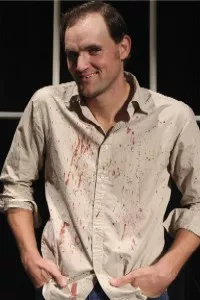 Photo: Jill Ritter
Broken, bloody and a murderer -- what's not to love?
Kyle Jarrow's
Love Kills
is a different sort of musical. Set in a 1958 Nebraska jail, the plot matches two sets of lovers -- middle-age Gertrude and Merle, teen-age Charlie and Caril -- and their attempt to understand what the other couple has done with their lives.
Charlie and Caril have been apprehended at the end of their state-wide killing spree, and Merle, the town sheriff, uses his wife as a pawn to wring a confession from Caril while he beats a confession out of Charlie. Add in that the music of this musical is guitar/bass/drum modern rock instead of period stuff, and you have what Jarrow calls "the new emo rock musical."
That's slightly misleading, as emo music is whiny and grating, and Jarrow's music is definitely of the downtown New York scene, with riffs that sound by turns like modern-era Sonic Youth and classic Patti Smith. Whatever you choose to call it,
Love Kills
is a gripping and fascinating evening in the hands of director Scott Miller and New Line Theatre.
The real-life crime story of Charlie Starkweather and Caril Ann Fugate, two misfit Nebraska teens who killed eleven people in the early days of the rock & roll era, is Love Kills' inspiration. Jarrow wisely avoids the grisly details of how the two murdered their victims; it'd be difficult to empathize with the play's Charlie and Caril if you knew. Instead we see only the aftermath of their capture, and in flashback, the initial hours of their courtship. During the course of this one night, the relationship of upright citizens Merle and Gertrude is balanced against that of the bloodthirsty younger couple. But since Merle's stated intent is to pound Charlie until he confesses, bloodthirsty may be in the eye of the beholder.
Charlie, played by Philip Leveling with disconcerting, frenetic energy, is a mess physically and psychologically. His face battered and bloody courtesy of a beating by the arresting officers, Charlie is part James Dean-inspired bravado, part lost little boy who disappears into his imagination when the real world becomes overwhelming. Leveling has a strong voice, and his gestures become rock star swagger when he cuts loose, a fine contrast to his twitching, hunch-backed posture when at rest.

Zachary Allen Farmer plays Merle with the stolidness of the prison walls. Taciturn and gruff, Merle's certainty -- in Charlie and Caril's mutual guilt, in himself -- is the bedrock upon which he stands. And yet Farmer's steady, glowering performance finds the humanity in Merle. Hands jammed in his pockets, his eyes shielded by heavy glasses, Merle looms over his prisoner as the embodiment of the authority Charlie rages against; Merle adopts the same pose in front of Gertrude, and he seems guarded, almost afraid. When he gruffly tells her, "I'm not heartless," he's more defensive than confident.

And then Merle and Gertrude (Alison Helmer), sing "Someday" together, and this frumpy Midwestern couple morph into John Doe and Exene Cervenka, wounded hearts not quite talking about the same thing, and you begin to think that whatever it is that drives Merle to be a hard man is as damaging as the thing that drove Charlie to explode into murderous action.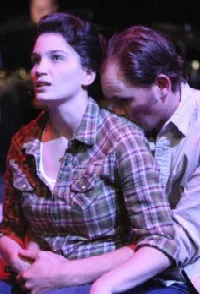 Photo: Jill Ritter
Caril and Charlie together again. Ain't love grand?
Helmer's Gertrude is the calm center of the play. Possessed of a remarkably clear voice, she delivers homespun platitudes such as "Guilt is a choice" and "Life is long" to her young charge with motherly conviction in an attempt to convince Caril to claim Charlie forced her into killing. There's strength in Gertrude, a strength she masks with demure smiles and almost-bland kindness.
Caril (Taylor Pietz) sees her as a non-entity, and initially responds with a "drop dead" sneer. Pietz has the loudest, most volatile voice in the cast. She wields it first as a weapon against Gertrude, her passion for Charlie something that the older woman could never understand -- but in a haunting duet the two women eventually sing "Try not to feel" to one another, each knowing exactly what's in the other woman's heart, and Caril's voice is lockstep with Gertrude's. Even as they're singing Merle is punching the shit out of Charlie on the other side of the stage, and it's frighteningly clear where not feeling will lead.


Love Kills
is not a comforting evening, not by a long shot. Identify too much with one couple or the other and you're bound to feel bad about yourself. But Jarrow keeps feeding you moments in which you want the four of them to achieve everything they desire, even when the characters are at cross-purposes. The end result is much like navigating love -- how do you give yourself to someone else and hold on to yourself at the same time? Life is long; if you're lucky, long enough to figure it out.
Love Kills continues Thursday through Saturday through October 24 at the Washington University South Campus Theater (6501 Clayton Road; 314-534-1111 or www.newlinetheatre.com). Tickets are $10 to $20.