Alex Wild
Don't be sucked in by the toy soldiers; Helver's Night is for grownups
​So far as openings go, it's a quiet week. The only new show is Upstream Theater's production of the U.S. premiere of Helver's Night, a Polish play by Ingmar Villqist -- though it will hardly be quiet, for it is a play about brutality, intolerance and despair. Its backdrop is the totalitarianism that was beginning to suffocate Europe in the 1930s. The play, which has been translated by Upstream artistic director Philip Boehm, should run approximately 70 minutes without an intermission.
Meanwhile, many shows conclude their runs this weekend, including the sassy The Secretaries at Echo, the Tom Lehrer revue Tomfoolery (scroll down) at West End, Macbeth (scroll down) at St. Louis Shakespeare, the absurdist Bald Soprano at Saint Louis University and The Belle of Amherst, an ode to Emily Dickinson, at Insight.
You like Stephen Sondheim?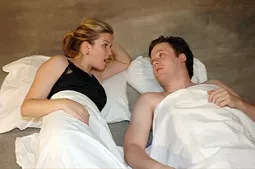 www.webster.edu
Company's not coming, it's still here!
​This weekend you can choose between the final weekend of his family-friendly Into the Woods (scroll down) at Stray Dog or his much less-frequently staged 1970 groundbreaker Company, which wraps up a two-week run at the Webster Conservatory. With a book by George Furth that has grown funnier rather than dustier with the passing decades, this meditation on the trials and tribulations of married life marked the beginning of the Stephen Sondheim-Hal Prince collaborations. Prince had previously produced Sondheim shows, but this was the first one he directed. Company marks the start of a glorious decade-long union that would soon lead to Follies, A Little Night Music, Pacific Overtures and Sweeney Todd, ending with the problematic yet intriguing Merrily We Roll Along.
The original Company was staged on an elaborate chrome-and-glass Boris Aronson set that that featured elevators and photo projections. If anything, this simpler staging puts even more emphasis on Sondheim's songs. They don't sound like a composer at the beginning of anything; this is Sondheim at full throttle. And although none of these songs found wide popularity apart from the show, for a Sondheim buff there's not a note here that doesn't ring familiar -- with perhaps the sole exception of the Act One closer, "Marry Me a Little," which was Company's original Act Two closer during the 1970 out-of-town tryout. Eventually it was replaced by the more upbeat "Being Alive." Now, all these decades later, "Marry Me a Little" has found its way back into Company at the end of Act One.
The acoustics in the Emerson Studio Theatre are especially conducive to ensemble songs. When this student cast blends together on "You Could Drive a Person Crazy," "Have I Got a Girl for You" and the title song, the effect is electrifying. There's also good solo work here. I was especially touched by the vivacity with which Galen Crawley attacked "Another Hundred People." It takes courage to be so bold in a theater so small.