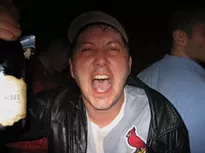 The St. Louis Cardinals are not going to make it past the first round of the playoffs, according to a sports blog hero and admitted Cardinal fan.
Will Leitch
, founder of
Deadspin
and now blogger emeritus for the blog that ESPN loves to hate, gave that prediction
today
. However, this decade alone, the Cardinals had one team destined for a championship get swept by the Red Sox, and another that hobbled into October win it all, with
trophy-humping results
.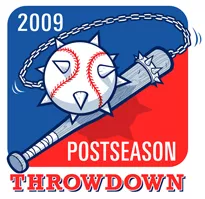 But, playoff predicting is still a ridiculously fun game to play.
Leitch, a native of Mattoon, Illinois,
predicted back in April
that the Cardinals would be a 90-win team this season. He was one game off (St. Louis finished 91-71.) Tonight is the first game of the National League Division Series against the LA Dodgers,
and the Cardinals are going down this round, in five games
, says Leitch.
We'll see how it pans out tonight. The game
starts at 8:37 p.m. CDT
and shows on TBS.
If the Cardinals do in fact lose to the Dodgers (who they seriously pwned during the regular season, beating the LaLa's five out of seven times), at least we'll all be spared seeing those awful KSDK "Quest for 11" promos, which are absolute torture.
Also be sure to print out your creepy Cardinal player mask to wear while you watch the game
.
Play ball!