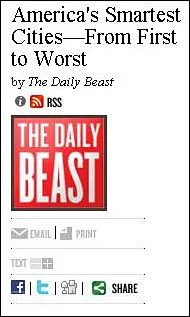 Fall is a suspenseful time for the nation's smartest people. No, we're not referring to the announcements of the winners of the
MacArthur Foundation "genius" grants
or the Nobel Prizes. Those things are all small potatoes compared to
The Daily Beast
's ranking of
America's Smartest Cities
, which came out yesterday.
Think about it. Most of us will never get $500,000 from the MacArthur Foundation or an all-expenses-paid trip to Stockholm. But we can all take pride in contributing to the overall intellectual prestige of our home metropolis, at least as determined by an online news site.
And huzzah, St. Louis! We came in 24th of 55! Tied with Chicago! (Which they will, of course, take as further evidence that they are having a
very bad week
.)
The Daily Beast
assigned its rankings based on a number of categories, including number of libraries and college graduates, number of institutions of higher learning per capita, voter turnout and, most strangely, nonfiction book-buying habits. ("We focused on nonfiction as an imperfect proxy for intellectual vigor," admits the
Beast
, "since overall sales are dominated by fiction works that, while entertaining, aren't always particularly thought-provoking.")
Here is St. Louis' (somewhat patronizing)
citation
:
The city that symbolizes the middle of America, its Gateway Arch a stepping off point to the west, St. Louis appropriately took the middle ground for nearly all our parameters and was among the bottom 40 percent for nonfiction book sales.

If only someone here had had the presence of mind of the used bookstore-owner in number 50
Harrisburg
, who claimed that his city's poor book-buying habits were proof of its thrifty culture!
St. Louis' "IQ", according to
The Daily Beast
, is 108. If we were a person, we would be just above average. The nation's smartest city, Raleigh-Durham, comes in at a Mensa-worthy 170, while the dumbest, Fresno, has an IQ of 3, which renders it almost too stupid to exist. (Which, come to think of it... It came as a shock to learn Fresno even qualified as a city.)
While we know we should be pleased to be tied with our longtime rival, Chicago, we can't help but feel slightly depressed by our number 24 ranking. Milwaukee came in at 15. And Kansas City tied for 17. That's seven places higher than St. Louis! (Though only eight lousy IQ points.)
Kansas City
is smarter than St. Louis?
(All
mathematics
were performed by Unreal,
our resident Mensa member
. Speaking of which, do any of Kansas City's papers have a Mensan on staff? We think not.)
Our sister paper, the
Miami New Times
,
calls shenanigans
. Miami came in at 39, but blogger Kyle Munzenrieder claims the data has been tainted by including all the dumb people in neighboring Broward County.
Still, there is some good news, at least as reported by the
New York Times
Style section, our source for all the important and ground-breaking news of the day. (Newsflash:
potbellies are now hip
. But only on men.)
has magnanimously allowed Washington University alumni to attend its events and mingle with grads of the exalted likes of Harvard, Yale and Princeton.
Well, sort of. As the
so endearingly puts it:
Not that it matters so much, since The Ivy Plus Society only hosts parties in large coastal cities, some of which (namely number 27 LA) are
dumber than we are.
piece contained so many obnoxious little nuggets that it's hard to restrain from quoting them all (especially the Georgetown grad who's sick of dating models). Herewith the very best:
Well, hey, at least it was Illinois, not Mizzou. Thank you,
, for small mercies.