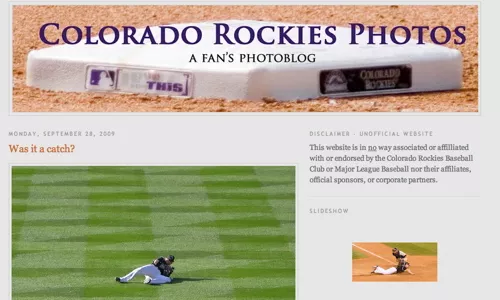 In just a moment we're going to hear from Craig Welling, a Denver blogger who snapped a photograph that was the source of much argument and consternation around the Interwebs last week.
First, some background. On Tuesday
RFT
sports blogger Aaron Schafer dipped into a brewing controversy surrounding the play that ended Sunday's Cardinals-Rockies game.
Fans of both teams no doubt recall the situation: Rockies up 4-3, top of the ninth. One out, Albert Pujols on first, Julio Lugo on third, Ryan Ludwick at bat. Ludwick hits a pop fly to center, Rockies second baseman Clint Barmes makes a back-to-home-plate running, diving, tumbling grab, then springs to his feet in plenty of time to double Pujols off first.


You can watch the play for yourself
here
and
here
, and
see the box score here
. For the Cardinals and their fans, the play marked a disappointing conclusion to a disappointing and deflating three-game set.
Back yet? Good!


As Aaron recounts in his piece, "
A Hose Job in the Mountains?
" Denver-area blogger/photographer Craig Welling posted photographic evidence suggesting that Barmes' highlight-reel catch may not have been a catch at all.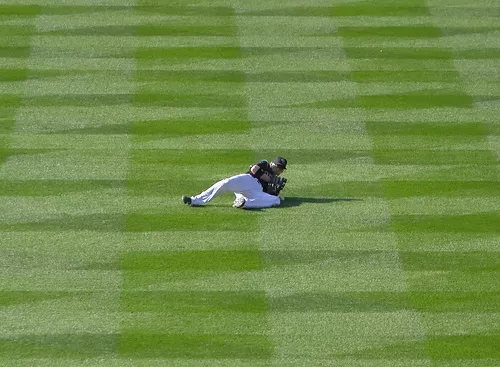 You have to peer in closely; if you do you can see, on the grass beneath Barmes' glove, just to the right of where his left knee meets his shadow, a baseball.
Can't make it out? Here's a closer look: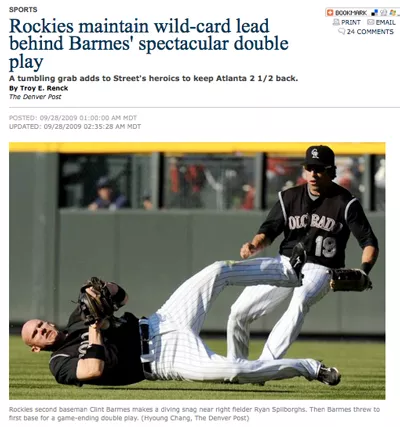 ...despite the fact that
Denver Post
photographer Hyoung Chang also had fired a shot that was far less conclusive -- a fact that was revealed in
a subsequent
Denver Post
blog item
that also brought Mr. Welling's photo into the fray: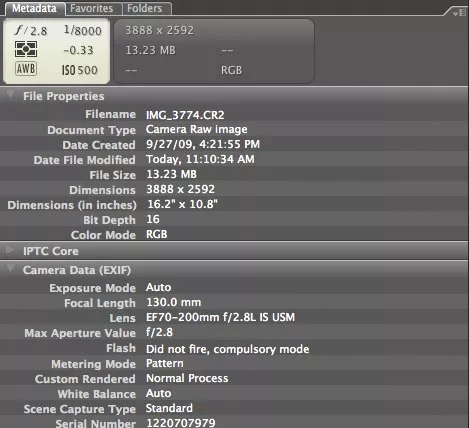 The image was created on 9/27/09 at a little before 4:22 p.m., which matches the time the Cards-Rox game ended. The raw file was unaltered after that until RFT brought it into Photoshop.
"I don't know what to tell you about where the ball moved or where it was in the series of photos," Welling sums up. "All I did was post the pictures, and people can certainly draw their own conclusions as to where it moved."
And they will, and this moment will pass, and both teams will be in the postseason -- and there'll be other moments for people to argue about.
Concludes Welling: "That's the beautiful part of the game, isn't it?"