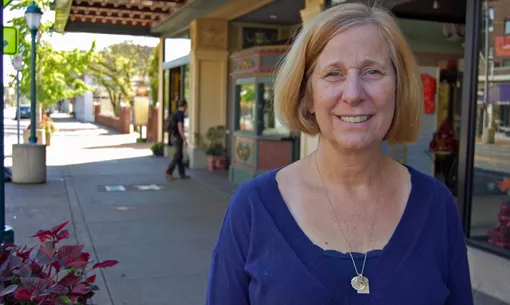 Cindy Sheehan today in St. Louis.
The image most of us conjure when the name
Cindy Sheehan
surfaces is that of an enervated woman standing in the summer swelter on the side of the road, a few miles from George W. Bush's ranch near Crawford, Texas.
Sheehan's four-week long vigil began August 6, 2005, when the Iraq war protests began to reach full boil. The media referred to it as Camp Casey, the name of her son, killed in enemy action in April 2004. Demanding a meeting with Bush, Sheehan stood near her pup tent and told members of Veterans for Peace, "And another thing I want him to tell me is 'just what was the noble cause Casey died for? Was it freedom and democracy? Bullshit! He died for oil. He died to make your friends richer. He died to expand American imperialism in the Middle East."
Sheehan's antiwar efforts have not relented since that summer in Texas, the summer her marriage ended as well. She keeps a punishing schedule, speaking to various peace groups throughout the country and promoting her self-published book,
Myth America
, which argues that the whole notion of
American exceptionalism
is deeply flawed.
Cindy Sheehan is carried away from her protest position.
The 52-year-old "Peace Mom," as she's called, arrived in St. Louis yesterday and will speak this evening, beginning at 6 p.m., at the Olivette Community Center.
In an interview earlier today with Riverfront Times, Sheehan said she has no regrets for her activities at Crawford, which summoned both passionate support and bitter criticism.
"My only wish is that the energy we had at Camp Casey would not have been wasted. All we did is elect Democrats," she said. "Our energy was co-opted."
Sheehan, who in 2008 voted for Green Party candidate Cynthia McKinney for president, said she is not disappointed by President Obama's performance in office, for she never had any expectations for him in the first place.
"It's been change in the wrong direction," said the one-time youth minister at a Catholic church in Vacaville, California. "Many people thought that since George Bush is gone, all of our problems are gone, too. Well, he (Obama) is still sending troops to Afghanistan. He didn't fulfill his promises in Iraq. We still have the military industrial complex and the 'robber class' on Wall Street that we've given permission to to send our children to be killed in wars."
A resident of San Francisco, Sheehan, who ran last year as an independent against Nancy Pelosi and collected an eye-catching 50,000 votes, said she has little patience for the Democratic Party.
"Democrats uses the Republican Party as an excuse for not getting anything done. They have a filibuster-proof Senate. They control the House. They have the presidency, and still nothing happens. This whole health care debate is a distraction. If we continue to dump a trillion a year into the Pentagon, then there never will be any reform.
"I'm still here because all of this, electing Democrats, has not translated into changing policies. That's why I'm here. That's why I am still in the trenches."