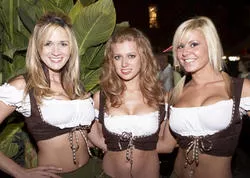 photo by Steve Truesdell
These ladies and their lederhosen may be leaving Soulard in 2010
Last time we checked in on Soulard Oktoberfest,
a controversy was brewing
between the festival's organizers and Alderwoman Phyllis Young (Ward 7), who felt the party and its drunken revelers had become too big for its lederhosen and needed to find a new location.
Well,
Oktoberfest 2009
is now a week and a half away and not much has changed. After a round of back-and-forth negotiations and a promise to keep party-goers from peeing in public and tearing up the neighborhood's flower beds, the festival will once again take place in Soulard's Market Park. Young, however, still has strong objections to holding the event in her ward and, as a result, Oktoberfest's organizers say they will find a new venue next year.
"We agreed to do it in the market one more year, then we'd seek a place elsewhere," says Oktoberfest founder John McKinstry, citing Lyon Park near the Budweiser Brewery as a possible destination. "We want to have the festival in Soulard. We are the Soualrd Oktoberfest. You don't have the Soulard Oktoberfest in Potosi or downtown or anywhere else."
Young doesn't see it that way.
"They envision it as neighborhood festival but their appeal is much broader," she says. "They're using billboards out on highways to advertise this. Can it really be a neighborhood festival?"
According to McKinstry, it certainly can. After Young's push to move the six year-old festival downtown earlier this year, he gathered more than 800 signatures from Soulard residents-- including fifty-five from Soulard Farmer's Market vendors-- who supported keeping the festival in its original location.
Several neighborhood groups (to which Oktoberfest, a not-for-profit organization, contributed more than $60,000 last year), including the
Soulard Restoration Group
and the
Soulard Business Association
, have also come out in favor of the event.
Seemingly the only faction opposed to Oktoberfest's stay in Market Park is the board of the Historic Soulard Market Merchants Association, which voted 4-2 (with two abstentions) against a proposal to keep the festival as a neighbor.
"
It is a very small number lined up against it, but they got the ear of the alderwoman
," says Billy Tomber, a board member of the Soulard Restoration Group. "Certainly the vast majority of people in the area -- not even the ward, but the area affected by all this -- signed a petition saying we want to keep it here."
Young, though, maintains that there are many in her ward who feel otherwise.
"If we started doing petitions competing with one another I could go get an equal number of signatures in regard to not wanting it to happen in the neighborhood," she says. "I don't see myself doing that, I have enough other things going on that are more productive, I think."
In addition to heightened security added to address Young's concerns, McKinstry says the festival will charge admission ($5) for the first time in its history in hopes of controlling crowds, which swelled to an estimated 20,000 last year and swilled
more than 600 kegs of beer.
The festivities were moved to the second weekend of October in order to free up the market during its busiest time of the month.
Still, Young was not entirely appeased by the measures, writing to McKinstry that she would "reluctantly accept your proposed compromise."
The festival organizer says he's baffled as to why Young remains so vehemently opposed to keeping the Oktoberfest in Soulard. "I wish I knew," he says. "Sincerely. We heard from maybe three people who were opposed to it."
Pressed for an explanation, the alderwoman said
a generation gap
is at the heart of the matter.
"There is a residential component to Soulard and that residential component deals with the nightlife regularly and when a special event comes in it's sometimes overwhelming," Young says. "I think there are a lot of people who don't want Soulard to be known as the place where college kids come and party. Maybe we're all getting older."