The Five Stories From Last Week You'll Need to Remember this Week.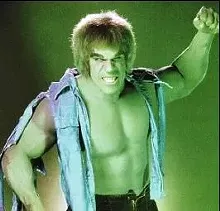 Devaney, shortly after being informed of Schlereth's comments.
​

1) You Wouldn't Like Him When He's Angry --

ESPN commentator

Mark Schlereth

caused quite a stir here in St. Louis with his appearance last week on

Mike and Mike in the Morning. Schlereth referred to the Rams' organization as, "in shambles"

, and the team as, "not competing."

Billy Devaney

, the Rams' General Manager, took offense at the implication his team wasn't playing playing hard and competing, and said as much on

The Paris and Burwell Show

on 101.1, the ESPN Radio affiliate which carries Mike and Mike.
"I'll be honest, I've got to take a deep breath, because that really pisses me off. When he says something like we're not competing, how the hell does he know? I guarantee you he hasn't watched one of our games. You can say we had a stinker in Seattle and we made a ton of mistakes. And that's fine. But to say we're not competing is totally asinine."
Schlereth apologized shortly after, claiming he meant the Rams aren't competitive, not that they weren't competing. Hopefully, Devaney's semantic victory over an ex-NFL player was some comfort to him when the Rams did their best on Sunday
to prove themselves uncompetitive
. Or incapable of competing. Or however you would like to phrase it.
I appreciate Devaney sticking up for his players. I really do. But let's face it: when your football team is as bad as this Rams team is, there are going to be some really nasty things said about them. Nonetheless, it's nice to see some fight from Rams Park.


2) Blind Lemon Mateo --
The Cardinals
voided the contract of
Wagner Mateo
,
their big money Latin acquisition this year
, due to a vision issue which was discovered in the course of physical examinations. Mateo's vision even with corrective lenses is 20/30, fine for most occupations but not so good for a professional hitter. Unfortunately, it was determined Mateo isn't a good candidate for surgery or other corrective procedures, and the Cardinals believe his vision will get worse with time, making him incapable of being a productive player.
Even more unfortunately, this thing appears to have the potential to get ugly, as there are rumblings of legal action from Mateo's camp. Exactly what the basis for such action would be is a little fuzzy to me, but that certainly hasn't stopped people in the past. At the very least, this story could very well prove a staggering blow to the Cardinals' Latin American operations, and
allow hack journalists to paint the Cards as the big bad wolf
.
3) The Cards Clinch, Finally --
After blasting through all comers in August and early September, the Cardinals found themselves in the middle of a mini-swoon as they tried to put the division away.
On Saturday night in Colorado
, they finally got over the hump, clinching the National League Central with a 6-3 win.
What's worrisome about the Cards' struggles is the timing. The Cardinals played virtually nothing but sub-.500 clubs in August and early September; their struggles coincided almost exactly with them seeing their first decent competition in nearly a month. Whether it was simply a stretch of rough play or an indicator of the club's true talent level against better competition remains to be seen; at the very least it's made me
reconsider my belief the Colorado Rockies aren't all that scary
.
4) La Russa and Edmonds Finally Bury the Hatchet -- Tony La Russa
visited
Jim Edmonds
at the anniversary of Edmonds' F15teen Steakhouse and Lounge. Of course, that only sounds like a big deal if one realises
the two hadn't spoken since the war of words which had erupted
when Edmonds returned to St. Louis wearing the Cubs uniform.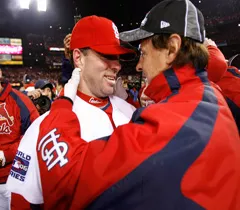 Tim McKernan has the whole story
, and it's a good one; seeing La Russa feud with my favourite Cardinal of this decade was a bitter pill to swallow. It's interesting how many great players have had trouble with La Russa toward the end of their Cardinal careers;
Ozzie Smith
is probably the most famous, but it seems to be a bit of a pattern. The career utility guys never have an issue; guys like
John Mabry
and
Aaron Miles
love Tony to the bitter end. The problem seems to be with guys like Edmonds or Ozzie or
Scott Rolen
, guys who were superstars and maybe have a tough time dealing with the end of that. They struggle to accept their changing circumstance, and La Russa seems to be unable of understanding and adjusting his approach.
Either way, it's great to see La Russa at least try to make things right; the sooner Jim Edmonds is involved with this organization again the better.
The thing is, that's probably true. Some team is going to hand Ankiel a spot, likely a starting spot, and probably pay him quite a bit to boot. That does not, however, mean doing those things is in any way a good idea.
Put simply, Rick Ankiel is not a good baseball player at this point
. His OPS+ this year is 76. He's been a below-average center fielder every year he's played there by UZR. (In the interest of fairness, though, he's been freaking awesome in left field this year. So what if it's such a small sampling of innings the data tells you absolutely nothing?) He's below-average with the bat, and below-average with the glove. More importantly, the Cardinals have a vastly more attractive option for center field going forward in
Colby Rasmus
.
So happy trails, Dick. It's been real, and yeah, it's a really cool story you've got yourself there. I'll still never forgive you for blowing up in the playoffs and I'll never forgive you for costing us Dan Haren. (Sure, it's indirect, but so what?) Somehow I doubt the Cardinals are going to commit to Ankiel as an every day starter next year; if they do, this thing is in way worse shape than I think.