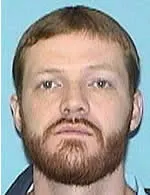 New details are emerging about
Michael Finton
, the man accused yesterday of attempting to blow up a federal building this week in Springfield, Illinois.
The 29-year-old Finton -- who reportedly works for a chicken and fish restaurant in Decataur, Illinois -- was arrested on Wednesday when he attempted to ignite a van outside the federal courthouse in Springfield. Finton's co-conspirator in the plot was actually an FBI agent who signaled in law enforcement when Finton dialed a cell phone that was supposed to detonate a fake bomb inside the van.
According to the paper, authorities had been observing Dinton for the two years. In 1999 Finton was convicted of aggravated battery in Richland County -- some 160 miles southeast of Springfield. He was released in 2006 and returned to prison in 2007 for a parole violation.
Per the Journal-Register:
At that point, his parole officer found several of Finton's writings, including a letter he had written to John Walker Lindh, an American who was captured fighting for the Taliban in Afghanistan in 2001 and imprisoned on terrorism violations.Over a period of months, Finton allegedly told the acquaintance, who was cooperating with authorities, that he wanted to go overseas and become a jihadist fighter.
In 2008, Finton received $1,375 from a person in Saudi Arabia to visit the country. Finton left in April of that year and stayed a month, telling a police informant that a sheik wanted him to marry his daughter.
Finton also allegedly told a government source that he would rather die as a martyr than live in the United States.
A time line of Finton's arrests and plots follows.