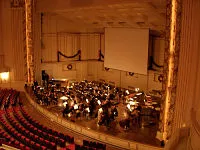 flickr.com/photos/bottleofblues
The SLSO onstage at Powell Hall.
The
Saint Louis Symphony Orchestra
ended its fiscal year August 31 with an increase in fundraising and a decrease in its deficit. Added to
the increase in ticket sales
reported at the end of the concert season in June and
a successful labor agreement
with the musicians' union, the SLSO appears to be the rare cultural institution able to thrive during the recession.
During this year's Annual Campaign, the symphony raised $4.8 million, its highest revenue since 2004 and a 1.7 percent increase over last year. The SLSO reported a structural deficit of $2.96 million, down 2 percent from last year. The organization claims, however, that these gaps are covered by extra contributions and the symphony is actually debt-free.
Says Fred Bronstein, SLSO's President and Executive Director, "Despite a difficult environment in 2009, significant progress was made in key areas, including a major step forward in turning around multi-year ticket sales and attendance declines in ways that engaged many new patrons; in a second consecutive year of growth in the Annual Campaign; and through continued progress toward financial stabilization by the reduction of the structural deficit."
Now if only the rest of us could be so lucky.