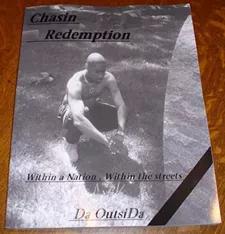 What is redemption? The term has all kinds of different definitions. It can mean:
to atone for ones sins
deliver one from a debt
to achieve salvation
Whichever definition you favor, most all meanings imply some kind of resolution and/or rescue.
The characters in a new book compiled by St. Louis author
Antoine Anderson
don't always achieve this state of grace, but then that's why the work is titled
Chasin' Redemption
.
Anderson and his contributing writers (most all of whom hail from the streets of St. Louis) hope their stories and life lessons will eventually lead them to peace -- and help influence others along the way.
It's a somewhat similar theme to Anderson's first book,
Walk on the Sidewalk and See What I See
, that recalled his days in the street outfit Gangster Disciples and the many tragedies that befell him as a teenager and young adult -- including the early deaths of his parents.
In
Chasin' Redemption
, the 39-year-old Anderson writes with the psuedonym "Da Outsida," a name under which he performed as a popular hip-hop artist in St. Louis in the mid-1990s. And like a rap song, most every story from Da Outsida in
Chasin' Redemption
comes in raw, free-flowing verse.
See this book is about the vision that I constantly learn about. These streets just served me a mirror, just served me a hot plate that I thought was nearer than the pot -- apot of gold that is. Hell, if I don't know me my true vision then I've just eaten my dream. If I'm caught up eyein' your Timbs and rims, then I've just switched teams. There's no I in team, so if you ain't taught me shxxt and blamed half your life on this and that, then what did I miss? My vanity my visions, my sanity, my livin'...thanks for the mirror you've given.

Got that? Not exactly?
Well, to be sure,
Chasin' Redemption
is probably unlike any book you've ever read.
Some of the stories and epiphanies inside its pages can be difficult to follow, but it's worth a look just to peek inside a part of St. Louis that's foreign to many.
The book contains dozens of photos of Anderson's family and friends -- including members of the Gangster Disciples posing for the camera with their
Star of David medallions
dangling from their necks. (
Chasin' Redemption
contributor "B.O.S" provides an interesting take on the Disciples as the saviors not the scourges of the neighborhoods they inhabit.)
Anderson's book is also laden with shout-outs and advertisements for various businesses and entrepreneurs who are friends with the author -- including St. Louis
"street lit"
novelist
Allysha Hamber
. Released from prison in 2004, Hamber has discovered her redemption as a successful romance writer with titles such as
The Northside Clit
and
Unloveable Bitch, a Hoe is Born
.
In retrospect, perhaps the best way to describe
Chasin' Redemption
is to compare it to a time capsule. It's an anthropological artificat, of sorts. Should humanity be wiped out and Martians land on Earth years from now looking for examples of how life looked and felt in north St. Louis in the 2000's, they'd be lucky to stumble upon a copy of
Chasin' Redemption
.
It could reveal volumes. And, by that time we hope everyone in the book had finally caught up with their redemption -- whatever that may be.
Interested in chasin' down a copy of this book? Email Antoine Anderson at humblewriters@yahoo.com or visit his website humblewriters.webs.com.