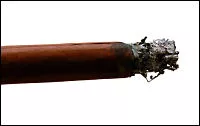 flickr.com/photos/catatronic
Clove cigarettes are all smoked out.
A guy walks into HSB Tobacconist in the Delmar Loop on Wednesday afternoon and asks Rick, the store manager, for a pack of
Djarum Black Cloves
.
Rick laughs. "You living in a cave? Monday was the last day we could sell cloves. The flavored cigarette ban started yesterday. You want a clove cigarette? Get some tobacco, buy some cloves and make your own."
The customer settles on a pack of American Spirits instead. To get them, Rick reaches past several empty racks that used to hold packs of cloves.
The flavored cigarette ban is the first major crackdown under the
Family Smoking Prevention and Tobacco Control Act
, which went into effect June 22 and gave the Food and Drug Administration the authority to regulate the $96 billion tobacco industry.
"These flavored cigarettes are a gateway for many children and young adults to become regular smokers," said Dr. Margaret Hamburg, commissioner of the FDA, in her announcement of the ban.
By January, the FDA will require cigarette companies to list all additives on their packaging, and by next June, they will be forbidden to use phrases like "light" , "low" or "mild".
HSB still stocks flavored cigars, cigarillos and pipe tobacco as well as herbal and menthol cigarettes, but the FDA promises to start investigating those as well.
For retailers like Rick, who declines to give his last name, the new regulations mean a loss of business.
"We sold a lot of cloves," he says, "but we're not allowed to sell to anyone 18 and under. The people who bought cloves were 18 and up. Some people in their 40s or 50s smoked cloves all their lives. Same thing with chocolate, cherry and vanilla. It wasn't just young kids." Younger people, he adds, tend to purchase Tijuana Smalls and Black & Milds. "Little cigars," he explains. "Terrible tobacco. But cheap."
Rick reports a major run on flavored cigarettes last week. "We had people buy 40 cartons," he says. "They wanted cloves." By Monday HSB had mostly sold out its stock of flavored cigarettes. The rest had to be thrown away.
Many of HSB's regular clove-smoking customers have talked about quitting now that their brands are no longer available, but Rick predicts an increase in the underground economy, that is to say, smuggling. He flips open a copy of a tobacco trade magazine to an article about three trucks containing smuggled cigarettes that were apprehended in Mississippi.
"The increase in cigarette taxes led to a crime increase because of smuggling," he explains. "In New York, where taxes are high and cigarettes are really expensive, smuggling is rampant. People will be able to get cigarettes. The Russians will provide people with cloves."
Rick suspects the ban against cloves stems from the U.S. government wanting to maintain control of the tobacco industry; most clove cigarettes came from Indonesia. He has no proof for this theory, though, nor his other theory that plenty of things cause cancer and cigarettes are merely a convenient scapegoat.
He pulls a cigarette from a pack of Pall Malls. "Tobacco's been around a long time," he says, lighting up. "I'll quit smoking when they quit driving cars down the street out there. Tobacco's the only defense I got from the poisons of the world."