So not too long ago
I previewed the most likely playoff teams in the National League
, trying to assess how much of a threat each one might be to the
Cardinals
come October time. Well, in the interest of completeness, and to try and educate my readership as best I possibly can, today I'm going to take a look around the junior circuit and make a bold, can't-possibly-go-wrong prediction as to who I think will be the Cardinals' punching bag in the playoffs. (Hey, I'm feeling expansive today.
Smacking the shit out of the Astros
will do that to you. Just let me have my momentary optimism, okay?)
I'm not going to try and put these in order based on how good they are or anything like that, as by the time the Cardinals might see any of these teams it no longer really matters which one is the most dangerous, so let's just make like the Sun and move East to West, shall we?
American League East: New York Yankees
The Yankees are the only team in baseball to have already sewn up their playoff spot, and honestly, that isn't a fluke, or the product of a bad division. If the Yankees aren't the best team in baseball this year, they are almost assuredly as least the most complete, a team with very few weak points. Of course, that's what the biggest payroll in the game will buy you; whatever Bud Selig and his cronies in the MLB offices may say, the playing field is not level, nor will it ever be.
Offense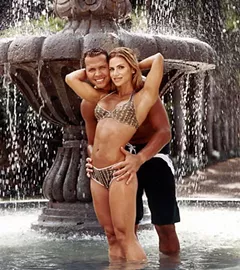 Is there a reason to have this picture here? Not really. But I think it's kind of funny, so it stays.
This is where the Yankees really shine; their ability to simply club teams into submission with their big bats is virtually unparalleled.
Derek Jeter
is having a career year with the bat,
Mark Texeira
is actually proving to be worth the contract lavished on him in the offseason, and
Jorge Posada
just refuses to get old and stop hitting. Even more impressive than the top-end talent the Yankees have, though, is the depth of their roster. Of their nine regulars,
the only player posting an OPS below .850 is
Melky Cabrera
, their center fielder. The Cardinals, on the other hand,
have only two players out of eight posting an OPS that high
.
Beyond just the talent level, the Yankees are also a very smart offensive team, with very few free swingers. Robinson Cano refuses to take a walk, but he also hits .320 and has 23 home runs on the season. Outside of Cano, though, every other Yankee hitter has a patient, sound approach at the plate. And power? Cabrera is the only regular slugging under .450.
Bottom line, the Yankees will bash your brains in with their lineup. It's the deepest lineup in all of baseball, and the elite talent is there as well. You want a reason to be really, really scared of the Yankees? Well, here it is.
Defense
New York is a decent defensive club, though not a great one. Mark Texeira has made a huge difference to the infielders with his ability to dig poor throws out of the dirt. Tex and Albert are the best defensive first basemen in each of their respective leagues, hands down. The rest of the infield is okay but not great, with Cano probably the weakest of the three. He's not a butcher, by any means, but tends to be inconsistent with his throws and footwork.
The outfield is a bit iffy, with Johnny Damon in left field continuing to lose range and arm strength at an alarming rate. Cabrera is good in center, and Nick Swisher is underrated in right field. This is a defense that won't hurt the pitchers, but also won't bail them out of trouble very often.
Pitching
The Yankee rotation is a talented one, anchored by CC Sabathia at the top. Sabathia is a true ace, and one of the leading contenders for the AL Cy Young this season. He's overpowering at times, with mid-90s heat and a nasty slider to boot. Even at 37, Andy Pettitte continues to roll right along, tossing solid ball all year long. Beyond the lefties, though, it gets a little more interesting. A.J. Burnett has some of the best stuff in the game, but has always struggled with consistency. This year has been no different; he was bad in May, brilliant in July, and has been exactly half and half for August and September. In four September starts, Burnett has given up six runs twice and one run twice. Joba Chamberlain is an enigma himself, possessed of some of the best stuff to ever grace a baseball mound but maddeningly inconsistent. A guy with his stuff should never have a WHIP of 1.5. Of course, he is still only 23 years old, but the point remains.
In the bullpen, well, there's really only one thing to say: Mariano Rivera. Rivera is probably the greatest closer in baseball history, and he doesn't look to be slowing down too very much in his old age. Philip Hughes has been a revelation in the setup role, further depressing me the Cardinals never found a way to get him. Beyond Rivera and Hughes, the Yankee bullpen is solid but unspectacular. Still, with those two staring at you from the back end, getting behind isn't a very good option.
Overall
As I said before, the Yankees are probably the best team in baseball, thanks in large part to their ability to simply outspend every other team. They're a remarkably deep team, with solid top-end talent as well. Let me put it this way: if the Yankees don't make it to the World Series, the world may very well end. Just saying.
American League Central
Detroit Tigers
The Tigers are currently leading the AL Central, though they're not doing a very good job of keeping the Minnesota Twins in the rear-view mirror. Jim Leyland's team is the best of a bad bunch in baseball's weakest division.
Offense
They have
Miguel Cabrera
, and Miguel Cabrera is a bad, bad man. He's not quite Albert, but he comes a whole lot closer than most. The left fielder,
Ryan Raburn
, has also had a very good offensive season, but beyond that,
the Tigers are a little lacking in claws.
Magglio Ordonez
is getting to the age where nagging injuries have begun to creep in, and
Curtis Granderson
has struggled badly compared to past seasons.
Placido Polanco
is still a nice player, but much more of a complementary sort than an offensive cornerstone.
Defense
The Tiger defense is rather weak, to be honest. Adam Everett is excellent at shortstop still, and Granderson is a nice player in center, but the rest of the team is iffy. I'll be honest with you; I'm going strictly by the numbers on these guys, as I haven't seen enough of the Tigers this year to make an honest, first-person assessment of their defensive prowess.
Pitching
Now we come to the Tigers' strength. The Detroit rotation in particular is brilliant, with Justin Verlander a Cy Young candidate this year and Edwin Jackson not far behind. (In fact, Jackson's ERA is actually a touch lower, though the rest of his stats don't stack up quite so well.) Both are true power pitchers, capable of shutting down any opponent, and represent Detroit's only real hope of beating some of the other playoff teams. After the top two, though, it starts getting dicey, with Rick Porcello the Tigers' #3. Porcello, of course, is immensely talented, but is also still only 20 years old and still getting his feet properly under him at the major league level.
The bullpen isn't going to scare anyone, though there are some things to like here. Fernando Rodney has done a nice job as Leyland's first choice to close out games this season, and Brandon Lyon has proven to be a canny offseason signing. Bobby Seay, the primary left-hander, has been very good. Ryan Perry, as talented as he is, would have been much better served with a year in the minors, in my ever humble opinion.
Overall
The Tigers this year are a little like the Cardinals of 2006, the team that beat Detroit in the World Series. (And that Tiger team was really good, by the way.) There is some real talent on the roster, but their Pythagorean record is 75-75, and that's no accident. The Tigers are probably the weakest entry into the AL playoffs.
Minnesota Twins
What, you were expecting hot twin girls? Too bad.
The Twins are doing their damnedest to make this thing a real race after looking completely buried early in the season. Minnesota is currently only two games back of the Tigers, and their Pythagorean Record actually has them at 78-73, meaning by run differential standards, they've actually been the better team.
Offense
Minnesota's offense goes primarily because of one man, and that man is
Joe Mauer
. Mauer is one of the best players in all of baseball, and should win his first Most Valuable Player award this season.
He's posting a 1.051 OPS
as a catcher.
Enough said.
Beyond the big guns, it's been largely a mix-and-match situation for the Twins. Denard Span has proven to be a solid big league player, with good on-base skills and plenty of speed, but Carlos Gomez, who was acquired in the Johan Santana deal from the Mets, has failed to develop any real plate discipline. Even worse is Delmon Young, the former #1 prospect in all of baseball, whom the Twins acquired when they traded away Matt Garza to Tampa Bay. Young is one of the most undisciplined hitters in all of baseball, and has proven incapable of making adjustments once the league caught up to him. You can stick a fork in him any time; I do believe he's done.
Guys like Orlando Cabrera, Nick Punto, and the like are there for their defense, and that's pretty much all they do.
Defense
The Twins are almost always good on defense, and this year has been no exception. The infield, in particular, is outstanding, even playing on turf. Span and Gomez are both very good in the outfield, though they aren't always on the field together. The Twins will miss Morneau here as well as at the plate, as his defense was always very good, especially at the Metrodome, where he had learned to play the turf bounces very well.
Pitching
Another area where the Twins are fairly good, though not anything like they have been in the past. This is a team lacking a true ace, as both
Nick Blackburn
and
Scott Baker
are more in the mold of solid mid-rotation pitchers.
Carl Pavano
has been quite good
since coming over from Cleveland
, and
Ron Gardenhire
has been able to squeeze some useful innings out of
Brian Duensing
and
Kevin Slowey
.
Francisco Liriano
, on the other hand, has been an unmitigated disaster, just a couple years after looking like Johan Santana's more talented younger brother.
If the rotation is a solid but uninspiring group, the bullpen is where the strength of the Twins' pitching staff truly lies. The relief corps is led by Joe Nathan, one of the best closers in the game. Matt Guerrier has served as his primary setup man this season, and has been brilliant, posting a 2.24 ERA and a 45/13 K/BB ratio. Guerrier isn't a high strikeout pitcher, but he gets the job done on a consistent basis. Jose Mijares has been excellent for the Twins as well, serving in a lefty relief role.
Overall
To be honest, neither the Twins nor the Tigers are really intimidating teams. Both have big time flaws, with the Twins somewhat shaky pitching and very shallow offense being their real challenges. Still, there are some things to like with the Twins, as they do have a couple big bats in the middle of the lineup and a true shutdown bullpen. If I had to choose which team will win the division at this point, I would have to go with the Tigers, simply because of their horses at the top of the rotation. Having a couple guys like Verlander and Jackson can cover a multitude of sins.
That's part one; come back tomorrow when I'll cover the AL West and the Wild Card team(s) from the American League. 'Til then.