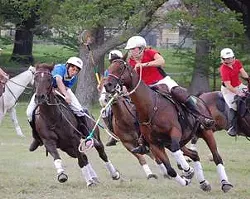 This just in from the "esteemed polo fields of Blue Heron Farms" in Defiance, Missouri.
What is polocrosse, you ask? Why it's the game you get when you combine polo and lacrosse, duh!. And, according to the APA, it is "America's fastest growing sport."
(Huh, we here at Daily RFT thought donkey-tennis and ostrich-fencing had eclipsed polocrosse in popularity, but what do we know!)
The polocrosse competition gets under way Friday October 2 and the public is invited to watch and tailgate. And what food goes best with a bastardized sport like polocrosse?
Turducken
, double duh!
Continue on to learn more about polocrosse and read a breathless press release announcing next month's competition. It's Daily RFT's Press Release o' the Day.
polocrosse