Check out this sampling of what happened in Missouri over the weekend: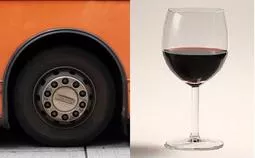 http://www.flickr.com/photos/somemixedstuff/ / CC BY-SA 2.0 http://www.flickr.com/photos/richardglenn/ / CC BY 2.0
1) Rollin' on a Rev'ler: Bus Crushes Mizzou Student in Winery Parking Lot
Around 1 a.m. last Friday, a bus loaded with college students was pulling out of the parking lot at
Les Bourgeois Vineyards
in
Rocheport
. Brian Lindsey, a 22-year-old Mizzou student in the
Pi Kappa Alpha fratnerity
, tried to stop the bus. The bus, however, stopped him.
According to
the story in the Columbia Daily Tribune
, the vehicle somehow backed up onto him, rested on his legs, then rolled off. Lindsey, a Springfield native, was listed in fair condition today at
University Hospital in Columbia
.
2) Ponzi Schemester in Kirksville Slapped With 30 Months of Prison
What's up with all these
Ponzi schemes
lately in the Show-Me state? First you had
Don Weir of Chesterfield, who bilked over 40 people out of some $10 million
.
Also this year, you had Cathy Gieseker
up in
Audrain County
fleecing 180 farmers out of more than $27 million
.
Then just last Friday, Neal A. Jackson of Kirksville got over two years for cheating 23 investors out of $844,000
. The
Kirksville Daily Express
had
that story
.
http://www.flickr.com/photos/88087720@N00/ / CC BY 2.0
3) Virus-Addled Snakes and Other Bizarre Animals Seized in Stone County
Three adults and one child were taken into custody in Stone County last Thursday when authorities found the following critters on the premises:
one alligator, one wolf hybrid, a poisonous cobra and a pair of monkeys.
NOT FINISHED YET!. Here's
what else
they found (
so says the story
in Springfield's
News Leader
):
"In an out building the suspect had about 20 plastic containers of dead snakes and 25 to 30 containers of live snakes, all carefully categorized by snake type...The snakes were dying because of a virus. One snake on the property was six feet long.

"The owner was also storing numerous dead snakes in his kitchen freezer."

Well, would you want them to spoil? Didn't think so. That story's a peculiar one, but not as peculiar as this next highlight....
4) Peculiar man seriously injured in a high-speed flee
That's actually a headline that appeared on the
News Leader's Web site
yesterday. Sounds like they've stumbled into subjective-crazy-tabloid land, huh? Wrong.
"Peculiar" is a town in Missouri.
Click here to see the map
.
Click here to read the story
(and some amusing comments from readers.)