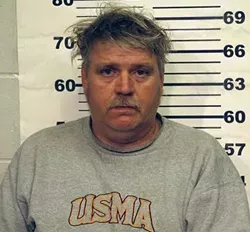 Not sure how we missed this story when it
first broke in January
. Then again, we're sort of glad we did. It's effin' gross.
Yesterday 49-year-old Danial (yes, Danial with two a's) Rinehart
pleaded not guilty
to charges of incest, statutory rape, child endangerment, second-degree murder and abandonment of a corpse.
Authorities arrested Rinehart, of
Harrisonville, Missouri
, in January charging him with fathering four children with one of his daughters.
Only one of the children -- now age 4 -- survived past infancy. Rinehart allegedly kept the corpses of two of the dead infants in coolers.
Rinehart is accused of molesting his daughter beginning when the girl was 13 and fathering a child with her by the time she turned 14. The daughter is now 19 years old. In July she
told her story to a Kansas City television station
.
The family's grotesque secret was revealed when one of Rinehart's other daughters called authorities from a Wal-Mart in Harrisonville.
Yesterday Cass County Circuit Judge Jacqueline Cook set Rinehart's trial date for April 19, 2010. Rineharts wife, Linda Rinehart, has also been charged with child endangerment and hindering prosecution.