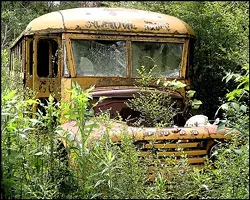 http://www.flickr.com/photos/robertstown/ / CC BY-ND 2.0
Bus(ted)
The Belleville Township High School District 201 handed down the
heaviest punishment allowed under state law
last night to two teens
caught on video
beating another student aboard a school bus.
The students -- age 14 and 15 -- will be expelled from school for the remainder of the 2009-2010 school year and all of the 2010-2011 school year.
In handing down the expulsion, board President Curt Highsmith said: "I hope that this sends a very, very clear message that this type of conduct has never been tolerated and will never be tolerated. Kids deserve the right to get an education, to go to school, to feel safe. ... We will work to the ends of the earth to ensure this."
As the
Belleville News-Democrat
reports this morning
, the board also passed a motion to review the video and discipline "each and every student" who in any way participated, including in egging-on the attack.
The paper reports this morning that most parents in attendance at last night's meeting supported the expulsions and the board's vows to discipline additional students.
Still, one mother raised the point that denying the attackers an education may only lead to further problems down the road.
"How is the expelling them for two years committing to their education?" asked Karen Coleman, whose daughter is friends with one of the expelled students.
"He was wrong, but I think the punishment doesn't fit the crime at all," Coleman told the
News-Democrat.
"I think suspension is enough. They've ruined these kids' chances of really doing anything else."