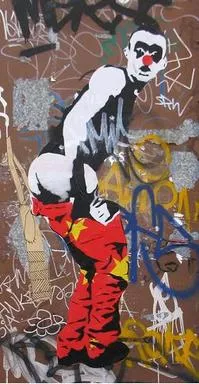 It's that time of the week again. Time to elect your favorite
Ass Clown
of the past seven days.
You know the rules: Vote for the local headline maker you feel made the biggest ass of themselves this week.
And the nominees...
1.
Joseph Jupiter
: The 20-year-old man from California who allegedly traveled to the St. Louis area this week to meet a juvenile teen. As the
KMOX headline so eloquently put it
:
"Police: Man traveled from San Diego to have sex with 14-year-old MO girl."
Which prompts the question: How far would you travel...? Oh, never mind.
2.
Richie Incognito
: The Rams guard continues to
plague the team with stupid penalties
. On last Sunday's opening day game, Incognito racked up two personal fouls that stymied Rams drives. The penalties come after a 2008 season in which Incognito taunted Rams fans and earned multiple fines and fouls for unsportsmanlike conduct.
3.
Janeika Harris
: The East St. Louis mother who made up a story about her son being abducted from his school possibly so she could sue the district and/or embarrass school administrators. Or maybe she just did it because she's an ignorant hayseed. As Harris told
KSDK Channel 5
this week: "I really don't know why I did it. But I done it to teach those teachers."
4.
Belleville Bullies:
Two Belleville students -- yet to be publically identified -- made national news this week when the
city police released a video
showing the two teens, ages 14 and 15, savagely beating a fellow student aboard a school bus.
Continue on to cast your vote!