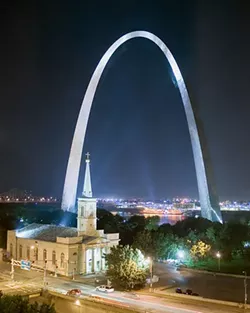 http://www.flickr.com/photos/lscan/ / CC BY-NC-SA 2.0
Have you heard
the news
?
The
National Park Service
is turning off the lights at the Gateway Arch for the next two weeks to aid the migration of birds.
Beginning last night, the park service will cut the flood lights that illuminate the stainless steel structure until September 30 at the request of the Audubon Society. (The park does the same thing each spring when the birds are flying north.)
Here at
Daily RFT
we're not exactly sure how this will help migratory birds -- especially when you have that gaudy
Lumiere Place sign
shining like a million suns immediately adjacent to the Arch.
But, this news item does allow us to recall our favorite story regarding the lights on the Gateway Arch...
It happened a few years back when the park service first installed the floodlights at the base of the monument. For some reason it was decided that the lights would shine from around 9 p.m. to midnight (or something like that).
Those hours didn't agree with many St. Louisans, and we'll never forget the response one elderly man gave when a local television station sent a camera crew to the Arch to get reaction.
Staring into the camera, the man huffed: "What the heck!? They don't turn these lights on 'til 9 p.m., but we're Midwesterners. We're asleep before then."
The park later decided to turn the lights on earlier in the evening -- and St. Louisans have been migrating to bed at a decent hour ever since.
THE END