http://www.flickr.com/photos/joeshlabotnik/ / CC BY 2.0
Around 9 p.m. last Friday, 75-year-old Mary O'Neal shuffled out of a
Price Cutter in Springfield MO
. She had her purse and some cupcakes for her grandson. Soon she heard the footsteps of a young man sprinting at her. He did not want a cupcake.
The ne'er-do-well snatched her purse, hopped into a get-away SUV, and sped off. Little did he know that Charles R. Webb, a regular citizen, was watching. This regular citizen had a 9 mm.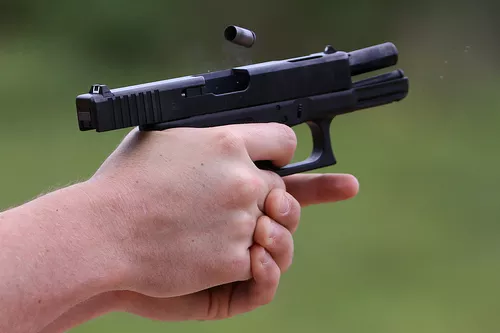 http://www.flickr.com/photos/jasonsansone/ / CC BY 2.0
Webb tore off after the SUV and began a chase that reached speeds of up to 80 mph (almost fast enough to travel back in time). At one point he boxed in the SUV at a motel parking lot, and convinced the perps to toss out the purse. Webb fired three shots, apparently trying to blow out their tires. But the perps escaped. Webb, however, did not.
He's been charged with felony unlawful use of a weapon, and his concealed carry endorsement has been revoked until his case is decided. Check out coverage by
the News Leader
and
KSPR
down in Springfield.
Now, is this fair? Check out some spirited online debate
here
,
here
and
here
. As you mull over the ethics of a normal citizen taking the law into his own hands, you may want to consult this video: