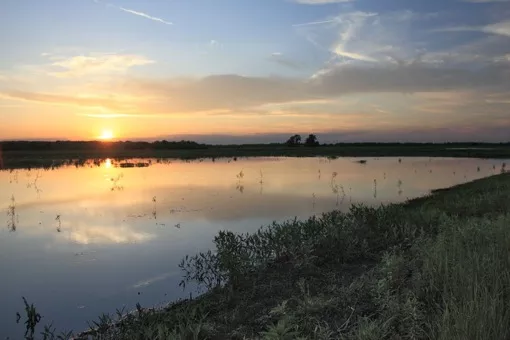 photo by Richard Keeling from my.opera.com/musickna
Sunset at the Columbia Bottom Conservation Area
​The first in a lengthy line of hurdles to build
a casino, golf course, and entertainment complex
south of the Columbia Bottom Conservation area was cleared Monday night. The St. Louis County Planning Commission approved the request from North County Development LLC to re-zone a large area south of the wetlands and river confluence for commercial use.
KWMU has
more details
and a quote from the director of planning:

The changes are just the first step in the approval process. Developers want to build a casino, entertainment complex and golf club on nearly 380 acres south of the Columbia Bottom Conservation Area.

They still lack a gaming license, though they are likely to bid on the license from the Admiral Casino in downtown St. Louis, which could become available next year. A number of federal, state and local agencies also need to give their approval.

"We kind of limited ourselves here to is this an appropriate location from a casino," said Glenn Powers, the county's director of planning.
For a detailed breakdown of the steps that remain before construction can actually begin on the casino,
click here
.
For thew views of the neighbors who think there's no way in hell this is "an appropriate location"
click here
.