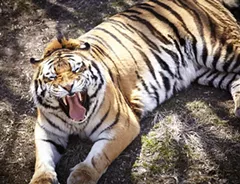 flickr.com/photos/mohistory
The U. City Tiger
For years now,
University City
has been awash in secrets and lies. It's widely believed that a lion and a lioness guard the west end of the Delmar Loop. The lion is, after all, the city's symbol, and in the interest of gender equality, why not have a lioness there, too? The belief is so ingrained and the cats are so far off the ground that very few people know that the lioness is not actually a lioness at all.
She's a tiger.
And now a group of concerned U. Citizens who call themselves Tigers for Truth are determined to spread the word.
"We're not. like, angry at people for thinking it's a lioness," says Andrew Wool, the group's mastermind and leader. "Some of our best friends are lions, but that's a tiger."
Wool, you may recall, achieved a certain measure of fame last fall for selling T-shirts emblazoned with the slogan
"Sarah Palin: Putting the 'Cunt' back in our Country"
. But he promises that the Tigers for Truth movement is entirely family-friendly.
The protests began last Saturday, September 12 (incidentally, Wool's 41st birthday), on what was supposed to be the
lions' 100th birthday celebration
. The celebration was canceled due to lack of funds and interest, but Wool and his group marched anyway from Meshuggah's west to the so-called Lions Gate.
One member, who had once served as his high school's mascot, wore a tiger costume. Wool and three others marched beside him, wearing Tigers for Truth T-shirts and carrying boxes of Frosted Flakes bearing the image of Tony the Tiger. They distributed cereal to passerby, handed out fliers with facts about the U. City statues and tigers in general and collected signatures for a petition that demanded recognition of the tiger. (Signers were required to provide their name, height and favorite color. "It's a joke," Wool explains. "It's not legally binding.")
Although a few people mistook the marchers for supporters of the Mizzou football team and although the group had to make a pit stop at Cicero's for the guy inside the tiger suit to mop himself off ("That thing is hot. He probably lost ten pounds in water weight," Wool estimates), Wool considers the mission a success. "We were having fun," he says.
Tigers for Truth has its origins in a report Wool wrote in high school on U. City history. "I was in the archives in the basement of the U. City Library," he remembers, "looking through photos. There was a photo of a sculpture and a guy standing next to the mold, and on the mold you could clearly see it written 'Tiger's Head Mold.' It always bothered me."
Mayor Joe Adams told Wool is fully aware that one of the lions is actually a tiger. "But no one wants to listen, they just hear what they want to hear," Wool laments.
flickr.com/photos/49823434@N00
The group has no definite plans for further action, though Wool is toying with the idea of sending someone in a tiger head and a tux to a gala celebration scheduled for October 10 at City Hall, or maybe just standing in front of the gate with a big sign that says "Honk if You Know I'm a Tiger."
The group faces a potential obstacle in the form of Wool's 72-year-old downstairs neighbor. "She's the chair of the lion stuff, so I've been really secretive," he says. "I've been taking the paper to her door and sweeping her steps and stuff, so if she does find out, she won't be too mad at me.
"I'm not anti-lion," he continues, "but pro-tiger. My mom said to me, 'Andrew, why do you want to rain on people's parade?' And I said, 'I just want to rain with the raindrops of truth.'"