Labor Day seems like so far away on this Monday, September 14, doesn't it? Here's a recap of our weekend coverage.
Jumbling Towers at the Firebird
This is not Jumbling Towers on Friday at the Firebird. This is them in-studio.
Music writer Bob McMahon was at the first Jumbling Towers show in St. Louis in about a year, and had this to say about the group: "After a seemingly interminable hiatus, Jumbling Towers made its long-awaited return to the stage last night with a powerful, if occasionally shaky, reminder of why it's one of St. Louis's best indie-rock bands. Not playing a show in about a year left the quartet with some rust to discard, but the Towers still put on a winning performance that offered a great showcase of their unique sound."
Read the rest of his review here
.
Pepper Lounge Seventh Anniversary
On Saturday night, one of downtown's longest-running nightclubs, the Pepper Lounge, celebrated seven years in business with a party. Egan O'Keefe was there and has
these photos
. After looking at
this photo
for a while, I'm still not quite sure what's going on there.
Crocodiles at Halo Bar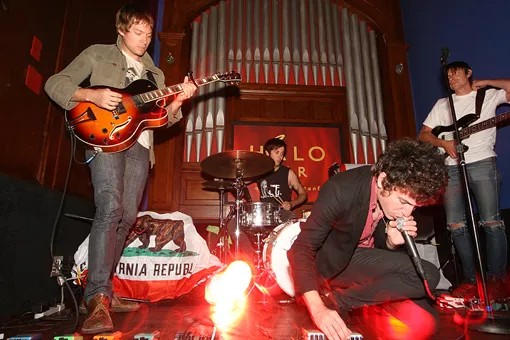 Photo: Nick Schnelle
Crocodiles perform on Saturday night at the Halo Bar. See more photos here.
Here in the Loop, the Pageant and its adjoining Halo Bar hosted two concerts, about an hour apart from each other. The first was a free show with Crocodiles, a buzzed-about California duo-turned-full-band, which played a free show, unlike its last visit here when
they didn't play at all
due to sound issues. From the looks of
this photo
, the band more than made up for it with its performance Saturday night. (Bonus music points: Check out the F.U.'s shirt worn by the drummer, who also plays in Italian punk band Smart Cops.)
Hottub at the Pageant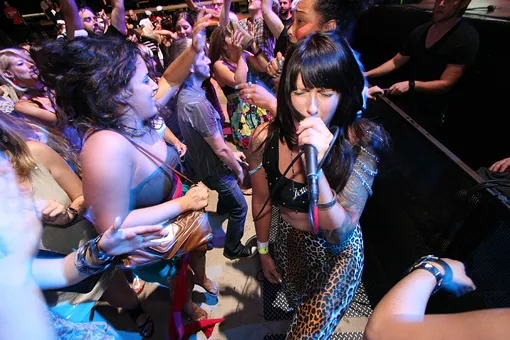 Photo: Nick Schnelle
Hottub at the Pageant on Saturday. See more photos.
Three female singers make up the raunchy, hip hop-punk group Hottub, based in Oakland. On Saturday inside the Pageant, the group moved the crowd,
invited people on stage
and did a lot of
air-humping
, on its stop here as part of the "No Sleep 'Til Oakland" tour.
Here's what's coming up this week:
RFT Calendar
.