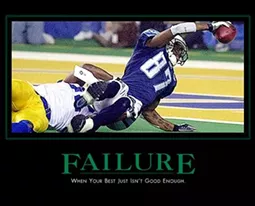 See, it's both a snarky way of making fun of the Rams' ineptitude and a way to remind us of better days. Nice, huh?
Well, hopefully this (and by this, of course, I mean
the unceremonious 28-0 ass kicking
we all witnessed yesterday), will put to an end all that hopeful speculation people come up with regarding the
Rams
being this year's version of the
Dolphins
or
Falcons
or
Ravens
; i.e. teams who turned their fortunes around in only a single short year. Those teams were all terrible the year before their renaissance, yes, but for the most part they also had a solid talent base to work from. Baltimore was still running
Ed Reed
and
Ray Lewis
out there on defense even during their down years, and a defense of that caliber means you're never entirely out of the running. The Falcons were much the same, with plenty of really good players ready to step up; a big part of the Atlanta turnaround was simply getting through the
Michael Vick
crisis intact. The Dolphins may represent the only team who was even close to being as far down as the Rams are, but even they had a few really dynamic players ready to bust out and an innovative offensive system to trot out on Sundays.
Not so this Rams team. Don't get me wrong; I happen to think Steven Jackson is one of the top running backs in all of football and I really like the wide receiver corps. But when your defense hands you three takeaways and you still get shut out, things have a way of looking rather bleak. The fact is this year's edition of the St. Louis Rams is going to look a whole lot like the last couple years, and I don't think it's going to be very pretty.
No, this Rams team isn't going to turn things around in just a year, and it starts with the quarterback position. Whereas the Falcons had a young phenom in
Matt Ryan
and the Dolphins had something called the Wildcat no one had ever really heard of before, the Rams have
Marc Bulger
. And I hate to say this, but I don't think the Marc Bulger of old is coming back. The Marc Bulger of old is now just the old Marc Bulger.
I do like the group of young receivers the Rams are beginning to amass, but they need someone to distribute the ball to them. And in
Pat Shurmur's
offense, I'm not sure Bulger is that guy. The Rams'
new offense is a modified west-coast system
, and Bulger has never proven he's capable of making good progression reads. In
Mike Martz's
timing-oriented system, Bulger was extremely prolific, almost ridiculously so. He was as good at counting and throwing to a spot as anyone I've ever seen. But checking off routes and reads? I'm just not sure.
Incognito, shown here in a file photo from his days on Life Goes On.
And seriously, how in the hell is
Richie Incognito
still with this organization? I had (foolishly, I suppose), assumed when a new coaching staff took over Richie would be unceremoniously shown the door. No more calling out the fans for not loving enough, or
getting into scuffles on the sidelines three times a week
, or pulling unnecessary roughness penalties left and right. Sadly, it now looks as if I was wrong and we're going to be stuck
watching this song and dance
routine again in 2009. Two more penalties in yesterday's game for after-the-play shenanigans; two more fifteen-yard backbreakers. Sigh.
As for the defense, they did an outstanding job taking the ball away, but proved rather porous otherwise. I will say this: I was mostly impressed with James Laurinaitis in his first real NFL game, and Oshimago Atogwe looks like he's ready to pick right up where he left off last year. Add in James Butler, and the Rams probably have the best safety group I can recall seeing on the field in recent seasons. But it still just isn't going to be enough.
The defensive line is still awfully thin, and it was painfully obvious yesterday the Rams weren't going to be putting much pressure on Matt Hasselback. I like the linebackers, with Will Witherspoon poised to have a nice season back on the outside and Laurinaitis one of the real promising young players on this team, so there's that.
Is there light at the end of this tunnel? Oh, absolutely. The Rams' defense this year looks to have plenty of guys capable of making big plays, mostly of the takeaway sort, and that will come in mighty handy in another year or two when the D-line finally gets shored up enough to really shut down the running game in the middle of the field. The offensive line looked okay, or at the very least they didn't seem worth talking about extensively, and that's fairly high praise for a group you only notice when something goes wrong. The receivers have some real promise, particularly Donnie Avery, and they should be ready to break out as soon as the Rams' new quarterback is ready to step up. The running back is elite, even if he drives me crazy with the way he dances toward the hole, rather than simply running ahead.
So yes, there is plenty of light at the end of the tunnel if you believe this new coaching staff knows what they're doing, and I fall mostly into that camp. But this team is still too far down in the overall talent level to turn into the 2008 Dolphins. It just isn't happening.
Rome wasn't built in a day, and the new Rams won't be built in a year. On the upside, the 2010 draft is looking mighty exciting, and the Rams are probably going to have another top 5 pick.